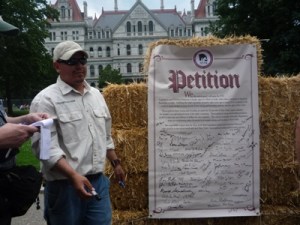 ALBANY—Several dozen thoroughbred breeders are at the Capitol lobbying David Paterson and legislative leaders to "expedite" the bidding process for placing video-slots at the Aqueduct racetrack in Queens.
"The state has been through this for eight years, and hopefully based on that experience we can move forward," Jeffrey Cannizzo, the executive director of the New York Thoroughbred Breeders, said. His organization has an online petition, and is delivering horseshoes to lawmakers and key staffers to make the case.
Several companies are presenting bids this week to the administration, which will review them privately and make a decision. It's unclear when.