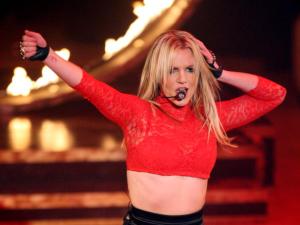 Britney Spears hasn't exactly been everywhere lately. But in the universe of OK! magazine, the pop star rules. Her face is plastered all over OK!'s glossy pages and on their Web site: Britney returns from her European tour! She films an ad! She's on a boat! None of these headlines were of great moment, but the Transom was surprised to discover that Ms. Spears had been given the honor of #1 Beach Bod in a recent issue, beating out slightly more hewn forms, like Halle Berry, Megan Fox and Kristen Stewart. What gives?
Ms. Spears, 28, was deemed a "habitual, frequent and continuous" user of alcohol and controlled substances by the judge deciding her 2007 custody battle with ex-husband Kevin Federline. A mother of two who has strugged with the baby weight in the past, she hardly seems the likeliest candidate for beach bod numero uno.
Of course Ms. Spears is promoting a new single from her most recent album, aptly titled Circus, and stepping out as the new face of Candie's Only at Kohl's. A little good press never hurt at the time like this, barely two years after Ms. Spears admitted on her Web site that she "truly hit rock bottom" prior to her 2007 rehab stint.
OK! editorial director Sarah Ivens gave it to us straight. "Britney's never been that skinny-skinny girl, she's always had a bum or a belly," she said. "We like that."
But the number one position on the beach bod list? "She only deserves to be included!" said Ms. Ivens, who was pleased that her oft-troubled subject "hasn't been doing too much in tabloid terms, she's been heaving herself on tour. If we cover her when she's going a bit mad, it's good to cover her when she's on her way back up."
Plus, Ms. Spears may not be too far off from her younger and svelter fellow Hollywood starlets. "She's dancing her ass off three hours a day," Ms. Ivens pointed out, a bit indignantly.
So there's no OK!/Spears special alliance? Admitted the editorial director: "We are a bit Brit-obsessed at OK!"