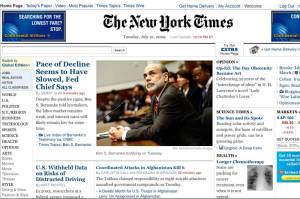 By most counts, New York Times deputy managing editor Jonathan Landman still considers the front page of the printed newspaper a sacred space, a place where editors and reporters display their best work and uphold the tradition of The Times' quality reporting. "The front page is still a front page; there's still six stories there, and they are what they are," Mr. Landman told The Observer. "They occupy the same positions that they always have. If they are influential or not influential, it's for the same reasons, right?"
He insists "nothing about the Web has changed the front page of the paper in any fundamental way."
But in a news industry dominated by the Web, the concept of a New York Times front page is evolving. For many readers, NYTimes.com's home page is the "front page," where the top articles in the print edition of the paper, mulled over and chosen during two daily meetings of New York Times staffers, are kicked off within hours. Other readers get their daily headlines on their phones using The Times' mobile application, which switches top news stories throughout the day.
And then! What about the thousands of other readers who arrive at NYTimes.com from their more personalized "front pages," the ones who arrive via link from RSS feeds or Google or other sites. Even TimesPeople's home page lists links to other users' recommended articles—ranging from a review of the new Harry Potter film to a Frank Rich column—not what's on the front page of the print edition.
"A link doesn't care about the surrounding atmosphere," said New York University journalism professor and media critic Jay Rosen. "Whether or not it's on the front page of the newspaper is irrelevant to the transaction." And maybe even to the reader, too.
This isn't to say that the stories chosen for the print-edition front page are less urgent or important than the constant breaks on the home page. According to a NYTimes.com newsletter, two front-page stories, one on Sarah Palin and another on Dick Cheney's link to a C.I.A. project, were among the top-viewed articles on the site between July 8 and July 14.
Mr. Landman said the same standards are considered when choosing stories for NYTimes.com's home page as for the print edition, "but the barrier is lower simply because the barrier is 60 instead of 6," he explained. "What we have evolved is getting the same judgments into the pipeline faster."
Jim Roberts, The Times' associate managing editor and NYTimes.com's digital news editor, is the man making most of those judgments, along with his team of editors and a home-page producer. "The front page of the [printed] newspaper has become more interpretive," Mr. Roberts said. "It reflects more enterprise reporting, it relies less on breaking news elements of the day, and part of that is driven by the fact that so much of the day's breaking news is covered on the Web, whether it's our site or other sites or people on television or any other fashion."
He considers CNN.com his competition and checks its site to compare their breaking news coverage.
"I think we also are building or managing the Web site to be in a competitive world," he said. "We're not CNN. We don't pretend to be CNN. But we are in competition for them for readers. We definitely want to be in tune with breaking news."
Mr. Roberts told The Observer that he usually kicks off The Times' first "page one meeting," at 10:30 a.m., by reciting which stories have appeared on NYTimes.com and what his team plans to post later on in the day. "The newspaper is at once the starting point of what we do on the Web, and sometimes it's the ending point in [that] it sometimes is an interpretation and an encapsulation of the news that has happened through the day," he said. Some Web items posted on NYTimes.com end up on the front page of The Times the next day, Mr. Roberts said.
Both Mr. Landman and Mr. Roberts say that Web stats have no bearing on what they choose to put on the front page of the newspaper or the home page of the site. "In terms of minute-to-minute news decisions, I think that would pretty much drive me crazy," Mr. Roberts said.
"You know, I would say if I had more time I would probably try to investigate more in what our readers are doing," Mr. Roberts said. "I guess I would rather know some broad trends, than some specific minute to minute thing," like whether readers are more interested in science news or fashion reports.
"Or if a profile of someone that I thought was a really really well written piece, if it sort of got miserable traffic, I would like to know about it and at least like to think about why that was the case, whether there was a message to be sent there," Mr. Roberts said.
Mr. Rosen, the journalism professor, scoffed at the thought of editors dismissing Web stats. "What world are you living in if you don't know where your users are flocking to?" he asked. "How can you edit your website?"
But he added the power of a website's front page should not be underestimated. "What is on the front page often determines whether something gets tens of thousands of readers or only a few," he said.
Mr. Roberts said he tries to reflect what he thinks the Times institution, and its followers, would want to read on the NYTimes.com home page. "I don't want people to call up NYTimes.com and feel like that they've just landed in an environment that is alien to them," he said. "It isn't necessarily The New York Times in print, but it needs to reflect the same attitudes and standards."
Does he have any regrets?
"I start making news decisions at 6:30 in the morning, and I'm usually on the phone with my editors, sometimes at 11 o clock at night," he said. "There's a lot of decision making going on between those two hours. So we do make mistakes. But I can't think of too many colossal ones."
greagan@observer.com