First, select an emcee. In this case, it's Hiram Monserrate.
He said the lawmakers had brought teachers, parents and children to the event "so it's not just the talking heads with a fancy title in front of their name" discussing the issue.
Put a lot of people behind you, and give the photographer plenty of room to get the shot.
The wire that 1010 Wins reporter Stan Brooks, and other radio reporters, use is usually shorter than the ones used by television and print reporters, so, let him get in close.
Have Curt Ellis take video, with fellow Senate staffer Warren Woodbury Jr. (formerly of the Daily News). Later, they post video highlights on YouTube.
Give the first speaker's slot to the highest-ranking elected official. In this case, it's Pedro Espada, the Senate majority leader.
Despite his own issues
, he spoke about the importance of transparency. "Where on earth do you get the opportunity to spend hundreds of millions of dollars and not have the public know where its tax dollars are going?" Espada said.
Be prepared, as State Senator Shirley Huntley of Queens was, to monitor incoming calls, even as you speak.
Like State Senator Ruben Diaz, Sr., who refuses to be just another guy in a suit.
"You can call us crazy. You can call us dumb. You can call us anything you want. It's not working. It is not working," Diaz said of the criticisms hurled at senators by Bloomberg supporters and editorial boards.
If you're not good on your feet, bring reading material. Diaz read from a two-year-old letter in which he called for the resignation of Schools Chancellor Joel Klein.
Be prepared to make room for late arrivals without interrupting your flow of angry rhetoric.
When you're not speaking, pose thoughtfully, as illustrated here by Eric Adams and Carl Kruger.
"It doesn't matter what you think of us," said Senator Eric Adams. "It matters what these parents think of us because that's who put us in office."
Bring really big posters. These ones, presented by Carl Kruger, had information about no-bid contracts.
State Senator Bill Perkins.
"The mayor has stepped on the third rail because he has stepped on the parents. And when you step on the parents, bzzzzz," said Bill Perkins.
That drew loud applause.
Observer File Photo
Give a platform to a non-politician in order to show that the dissatisfaction is real. Here, the recording secretary for the chancellor's Parent Advisory Council, Queend McAda, goes off on lots of things: "One-point-four billion dollars came to New York and Barack Obama wants to know where did it go. Well, Barack, I have no idea, because I'm using my welfare card to get to meetings because I can't get Title One money that you sent."
Then, after all the speeches, talk to reporters.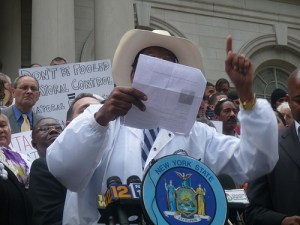 The Bloomberg-bashing press conference is getting to be a regular event for Senate Democrats, since negotiations with City Hall over mayoral control of schools fell apart.
The most recent press event was yesterday. Here's what it looked like.