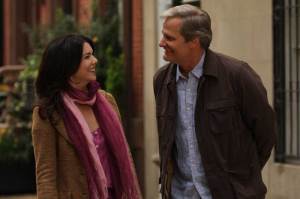 The Answer Man
Running time 95 minutes
Written and directed by: John Hindman
Starring Jeff Daniels, Lauren Graham, Lou Taylor Pucci
Jeff Daniels has an oafish charm that has been utilized skillfully on the stage many times, but ambushed by the movies. While on hiatus from the smash Broadway comedy God of Carnage, he can be seen on the screen this week in a flawed but appealing little trifle called The Answer Man. Although he's the best thing in it, it's still close but no cigar.
In a fresh premise reduced by first-time writer-director John Hindman to the status of an exaggerated sitcom, Mr. Daniels plays Arlen Faber, the 50-year-old Philadelphia author of a self-help book called Me and God—a New Age phenomenon about the science of faith that has redefined spirituality. It was written 20 years earlier, but the writer's reclusive nature, refusal to be interviewed or photographed and claim that he's been "touched by the Creator Himself" have transformed him into an international celebrity, with countless editions of the book in more than 100 languages and no end to sales in sight. You'd think Arlen would enjoy being the J. D. Salinger of how-to lit, but he's a miserable sourpuss who knows he's a fraud. Sought after by the world as the man who has all the answers, he is so plagued by self-doubt that he can hardly tie his own shoes. Suddenly, things change when two people come unexpectedly into his life. Trying to box up and dispose of piles of free copies of his cursed book, he wanders anonymously into a secondhand bookstore and dumps Me and God on the bewildered and bankrupt owner, a young man named Kris (Lou Taylor Pucci), who is in and out of rehab for alcoholism and has generation-gap problems with an overbearing father. Later, when his back goes out from stress and misery, Arlen consults a pretty chiropractor named Elizabeth (Lauren Graham), a single mother who works overtime to run a business and pushes protein drinks and scrambled egg whites on her son, played by Max Antisell, a precocious child impersonating an adorable 7-year-old movie star. When they learn who he is, both Kris and Elizabeth—Kris with his AA meetings, and Elizabeth with her double life as owner of the Straighten Up Healing Center and overprotective mom, who drops her kid off at school and then reaches for a cigarette and turns up the rock 'n' roll—turn to Arlen for perfect advice, unaware that he's a perfect phony. It is amazing how little insight Arlen contributes to either of them. He's good at curing the world's problems on paper, but can't begin to solve his own—he's an antisocial curmudgeon totally disillusioned by his own artifice. The movie is about what happens when his complacency is shattered and his sanctum sanctorum is encroached beyond repair. Miraculously, and not entirely convincingly, Arlen finds his hidden heart, which turns out to be the size of Pennsylvania.
Few actors could make this corn pop the way Mr. Daniels does. With his soft, doughy chin and carefully camouflaged intelligence, he looks like a golden retriever whose big, lovable face has been stroked the wrong way. Arlen is not the kind of role he would ever be expected to play in real life. But he has always had an agreeable talent for sarcasm. Touching on themes as varied (and contrived) as drinking, a Higher Power who controls fate, resistible romantic love, the pressures of fame, the variables of parenting and the problems of fathers and sons, the writer has given him plenty of sarcastic jawbreakers masquerading as one-liners. "Is there a rest stop between me and the end of this story?" Etc., etc.
The improbable romance between the two stars is a stretch, but their chemistry is undeniable. Unfortunately, much of the film is too implausible to forgive. There is never any evidence that Arlen knows enough about humanity or God to write a blog about either, much less a book that is almost as much a literary phenomenon as Harry Potter. And as someone who suffers from crippling back problems, I am here to tell you that the scene where he crawls along the sidewalks of Philadelphia, all the way to the chiropractor's office, in spasm is just plain ludicrous. Still, thanks to Mr. Daniels' considerable chops, the superficiality in The Answer Man always seems less shoddy than it really is. Not great, but as summer comedies go, I've seen worse.