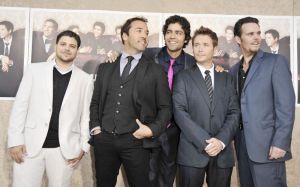 The tagline being used to promote the sixth season of Entourage (how exactly did we get to six already?) says everything you need to know about why the show is still entertaining after all these summers: "Life Changes. Friends Don't." Strip away the dirty jokes and ridiculous plot lines (Medellin anyone?), and the real reason the seminal HBO series still connects with people as it moves into its twilight years is because it's all about friendship. And so Sunday night's season premiere, which picks up about six months after the events of the season five finale, with Vincent Chase (the seemingly ageless Adrian Grenier) and his posse back on top, does what Entourage does best: Showcase a bunch of friends hanging out and having a good time.
For those who don't remember back to 2008: At the nadir of his career, Vince was able to snag the lead role in Martin Scorsese's Gatsby—yet another in a long line of fake Entourage projects that should be real—and now he's reaping the rewards; his comeback includes going on The Tonight Show to get interviewed by Jay Leno, and an upcoming role as Enzo Ferrari in a biopic on the late automaker. (The Leno appearance is one of two NBC mentions that are laughably outdated; in another sequence, the Miller/Gold agency strikes a deal with My Name is Earl showrunner Greg Garcia … and this thrills them!) With Vince's career on steadier footing, it's the personal lives of our heroes that take center stage: Eric (Kevin Connolly, always getting better), is debating whether to move into his own place; Turtle (Jerry Ferrara) is ensconced in a relationship with Jamie Lynn Sigler (Mr. Ferrara's real-life relationship with Ms. Sigler is still confounding and yet also kinda awesome); and Johnny Drama (Kevin Dillon), despite his successful television series is still … well, Johnny Drama.
(That we didn't mention Jeremy Piven's Ari Gold is by design. Mr. Piven is as caustic and funny as normal—watch out for his laugh-out-loud meta reference to Mad Men—but he simply isn't part of this core group of friends. The show has always been more successful when they keep Ari at arms length, out on the lunatic fringe.)
And while everyone is growing up, there's Vince, the Peter Pan of Hollywood, left to fend for himself. We're not sure where creator Doug Ellin will take the remainder of the season, but if the trick of Entourage winds up being that Vince is the one friend who stays stagnant while everyone else grows up, we'd be pretty okay with that. With the movie star success and that perfect hair, he's always been the untouchable one; the idea that he might be the loneliest guy of them all is, at once, both totally clichéd and kinda perfect. Luckily for Vince, no matter what happens, he'll always have his friends, even if the relationships themselves evolve into something different. And luckily for us, we still have Entourage to brighten our Sunday nights. The boys are, indeed, back.