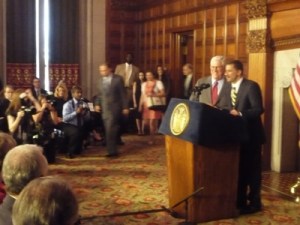 ALBANY—Supreme Court Justice William LaMarca issued a ruling Tuesday night that prevents Richard Ravitch from serving as lieutenant governor, at least until a higher court hears the case.
"The court concludes that plaintiffs have established a likelihood of success on the merits for their claim that neither the constitution nor legislative enactment authorized the governor to make the appointment," LaMarca wrote in a 20-page decision. "The court is convinced that this is the rare case in which a preliminary injunction enjoining an act of the governor of the state is appropriate."
Senate Republican Leader Dean Skelos, who brought the suit challenging the appointment, said it was the "right decision."
Peter Kauffmann, a spokesman for David Paterson, said "we are confident the appellate courts will ultimately rule in our favor."
On Sunday, I asked Paterson how he would treat Ravitch—who he is eager to involve in his administration—if the legitimacy of his appointment was annulled.
"We'll continue them," Paterson said of the initiatives on which he hopes to have Ravitch work. "And as he served as the chair of the commission on the M.T.A., theoretically we would ask him to chair some voluntary service task force that might accomplish the same thing."
Paterson also told me he would introduce a bill explicitly giving the governor authority to fill a vacancy in this manner.
"Really, my action was necessitated by 50 years of inaction," he said.