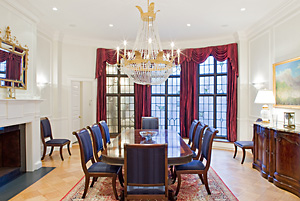 Even though it took Alex Reyfman, the former head of credit derivatives research for Bear Stearns, four price cuts before he finally sold his Upper West Side co-op, he ended up getting only $540,000 less than his first asking price.
Another former Bear Stearns executive won't be as lucky.
According to a Corcoran listing, Jeff Urwin, who had been co-head of investment banking at Bear Stearns (and a member of the firm's management committee), has cut the price of his townhouse from $32,750,000 to $26 million. The 21-foot-wide mansion, that listing says, has a 35-foot-long music room; a garden and two terraces; "indulgent" and "top-of-the-line" kitchen appliances; a master bedroom suite "with his-and-her baths and dressing areas" (with custom cabinetry); and a basement that's "a haven for exercise and relaxation."
Nevertheless, the listing has apparently had a bumpy ride. According to StreetEasy, it was listed in mid-February, taken off the market that month, put back on in March, taken off again in May, but re-listed that same month.
Mr. Urwin, who was hired by JPMorgan after Bear's fall (and given the title Head of Investment Banking Coverage in the Americas), did not return a message left at his office. Last week, a source from his new firm complained on the blog Dealbreaker about "all of these bullshit systems and internal bureaucracy" Mr. Urwin has set up there.
Other Bear veterans are having real estate troubles, too. Mark Goldstein, a leveraged finance banker who became the co-head of Bear's European investment banking in 2007, is still asking $12 million for his 1000 Park Avenue sprawl, even though it's been on the market since the autumn. Earlier this year, Bear Stearns' ex-COO Alvin Einbender, who bestowed the nickname Ace on his old college roommate Alan Greenberg, cut his $30 million, barrel-vaulted, four-bedroom, 6,600-square-foot apartment in the Police Building to $26 million. "Just, you know," he said then, "you live in a world that's not static. And you re-evaluate your position, frequently, as I always have."
mabelson@observer.com