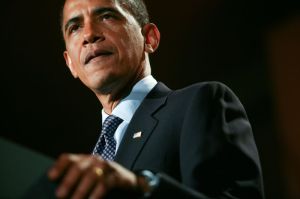 Not long ago, we wrote about how the Obama administration's inability to develop a credible Economic Surrogate in Chief had contributed, in part, to the perception that the president was overexposed, as he went on seemingly every talk show and news program in the country to pitch his economic recovery proposals.
All of which came to mind today as the White House continued to roll out Mr. Obama's intensive media schedule as he pitches his health care reform plans.
Last week, Mr. Obama sat down for interviews with various TV health correspondents, including MSNBC's Nancy Snyderman. Tonight, Mr. Obama will appear on PBS' The NewsHour in an interview with Jim Lehrer. Tomorrow, he will sit down for an interview about health care with Katie Couric, which will air on The CBS Evening News. And on Wednesday, he will hold a prime-time press conference on the subject.
How long until another bout of Obama-overexposure fatigue sets in?
So far only CBS–which had reruns scheduled for Wednesday night–has committed to carrying the event.
More on the potential scheduling conflicts from TVNewser's Chris Ariens:
The White House has moved the news conference up an hour to 8pmET/7pmCT Wednesday. It will replace sitcom reruns on CBS. NBC may be more likely to take it now since they are re-airing the previous night's "America's Got Talent." ABC has a new "Wipeout." And FOX airs a two-hour "So You Think You Can Dance?" at 8pmET.