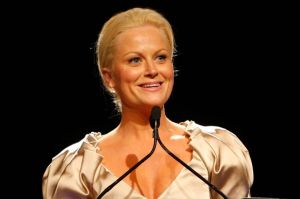 Late Night With Jimmy Fallon is by far the nerdiest late night show on network television. Our Twittering, video-blogging host has welcomed tech bloggers and Diggnation dudes as headlining guests; he's showcased the latest gadgets—from XBox 360's wireless controller to the Palm Pre—on his show and we (mostly) love him for it. With the help of Fallon's co-producer, G4-TV Attack of the Show! vet Gavin Purcell, Late Night is courting that hyper-connected millenial audience—and they're watching.

So what kind of dorky hijinks was Jimmy the geek up to this week?
Late Night is taking a summer vacation, so it's all repeats this week. But we've been getting our Late Night geek fix watching videos of celebrities take Jimmy's Internet Personality Test over on the show's official blog.
The idea is simple: Backstage camera guys give guests a series of questions about their general Internet activities, like what kind of social networking sites they use or what's their favorite game to play online. It's sorta like taking a peak into their browser history, which seems like fun until they mention that awful 2 Girls 1 Cup video. (We refuse to link to it. Google it if you don't know.)
But it's fun to hear from celebs like Amy Poehler, the most recent star to get under the Personality Test's computer screen glow. She mentioned sites she "can't live without," like her own smartgirlsattheparty.com (which we love) and cuteoverload.com, because "puppies and kittens make friends" there. When she needs a laugh, she watches the YouTube video of a lady stomping on grapes and then slipping. She also gets nervous when people send her links and she doesn't know what they are "because disgusting things burn in your brain and they never go away." Also, no Texas Hold'Em Poker for Ms. Poehler, she only plays board games in real life. Like Rummy Cube!
Some other test takers were The Hills' Lauren Conrad, who likes Bizkit the Sleepwalking Dog videos; the guys from the Universal Record Database, who gave shoutouts to baldguygreetings.com and the Slapchop informercial remix; and WineLibrary.tv guy Gary Vaynerchuk, who gave a nod to OMGPOP, the New York–based online gaming company behind Blockles.
Some other favorites?
Neil Patrick Harris (swoon!), who likes towleroad.com and uncrate.com.
30 Rock's Kenneth, or Jack McBrayer, also took the test and seemed like he hardly uses the Internet at all. But he likes Auto-Tune the News and gmail and Spider Solitaire.
And here's Spencer and Heidi, who says that, uh, she can't live without bibleverses.com. O.K.