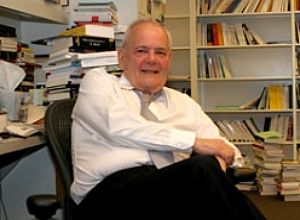 Yesterday afternoon, a little before 5 p.m., the official Twitter feed of the New York Review of Books rang out with a message announcing a job opening. "Editorial assistant wanted," the tweet said, and pointed interested parties to a job listing on the NYRB Web site. Evidently one of the four youngsters who serve editor Bob Silvers at the proud biweekly decided to leave his post and get an MFA at NYU instead.
It was an unusual tweet for @nybooks: Normally the account is used to publicize articles that appear in the publication, or else point followers to events and readings involving its contributors. The response to the job post was instantaneous and relatively deafening, as Review fans employed and unemployed alike retweeted the announcement and contributed commentary.
ZekeFT said, "most brutal-looking job posting ever ever"—presumably in reference to the part about candidates being "prepared to work irregular hours, including weekends."
Along the same lines, SuziSteffen said, "Ohhhhhhhh sigh."
Toualoua said, "I want this JOB," which was echoed by bianunesdesousa's exclamation, "Eu quero!!!"
kariannebgilje said, "Ryddet skrivebord og klar for nye utfordringer?" which means, "Cleaned the writing table and ready for new challenge?"
According to the Review's director of Web publishing, Mathew Howard, who mans the @nybooks account, "There have been quite a number of applicants—probably more in the first day then there otherwise would have been."
Mr. Howard said he was amused by how eagerly the announcement was received.
"It certainly got a stronger response than most of the stuff that I post on Twitter," he said.