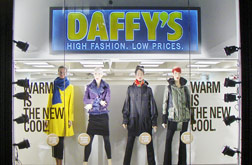 The "Daffy's Apartment Contest" with 30 Rock's Katrina Bowden at the bargain department store's Soho branch this afternoon was a family affair. Marcia Wilson, the president of Daffy's stood with her father, Irving Shulman, who founded Daffy's in 1961. Ms. Wilson introduced Ms. Bowden, who brought her mom, Karen, to the event.
The actress was wearing a black floral-patterned dress and yellow cardigan and spoke to the Transom about apartment hunting. "Oh, gosh! What isn't hard about finding an apartment in New York City?" she said. "Size is a big issue, general convenience and price—all of that rolled into one!" Her dream apartment, she said would be in "Soho bordering on the West Village, new, in a new building, with at least one wall of exposed brick! That's really classic and old New York-looking. And a really beautiful kitchen. And hardwood floors, and a bathroom that looks like it's a spa. And great light!" Doorman building? "Yes! It feels kind of like you're in a hotel when you have a concierge and a doorman."
The contest offered the chance to win a piece of real estate heaven: a 2-bedroom, 1,300-square-foot West Village apartment, fully furnished, for $700 per month instead of the market value of $7,000. Shoppers thronged the store to enter. Contestants have a tweet-like 30 seconds to record on video why they think they should get the apartment. "I need a lot of closet space!" was Ms. Bowden's reason.
The winner will be chosen in September.