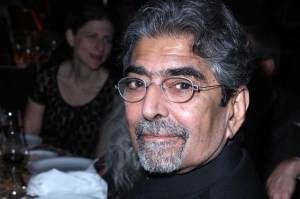 After a brief sojourn with Ann Godoff at the Penguin Press, historian David Fromkin is coming home to Knopf, the winner of a four-way auction for his next book. Mr. Fromkin's agent, Suzanne Gluck of WME Entertainment, said it will be something of a sequel to Mr. Fromkin's best-known work, A Peace to End All Peace: The Fall of the Ottoman Empire and the Creation of the Modern Middle East, for which he was nominated for a 1990 Pulitzer Prize. The new book, Next Year in Jerusalem, will explain how tensions between Britain and the Nazis over the Middle East during the buildup to World War II and the war itself altered the course of the region's political history.
Mr. Fromkin, who is in Greece at the moment and could not be reached, had been publishing with Knopf, the fiefdom of Sonny Mehta, for more than a decade when Ms. Gluck sold the rights to his 2008 book The King and the Cowboy to her pal and frequent customer, Ms. Godoff. Ms. Gluck said that book, in which Mr. Fromkin tried to document a previously unknown alliance between Theodore Roosevelt and King Edward VII of England in advance of the Algeciras Conference of 1906, was a "detour" for Mr. Fromkin. According to Ms. Gluck, it landed with Ms. Godoff because she "wanted to back his passion project."
Ms. Godoff didn't return a call, but according to Ms. Gluck, the decision to discontinue Mr. Fromkin's relationship with Penguin was made because The King and the Cowboy did so poorly. "Honestly, despite all of our best intentions, the marketplace wasn't as receptive as we had hoped," Ms. Gluck said. Indeed, the book went largely ignored, and received a mixed but damning review in The New York Times that questioned Mr. Fromkin's premise and called his evidence "strikingly thin." Ms. Gluck added, "Ann and I and David all felt that he'd be better off trying another sales force."
Mr. Fromkin will now be edited by Andrew Miller, who joined Knopf shortly after Mr. Fromkin's previous editor there, Ash Green, announced his intention to retire. Mr. Miller, who has taken over a number of Mr. Green's authors, declined to comment on the acquisition.