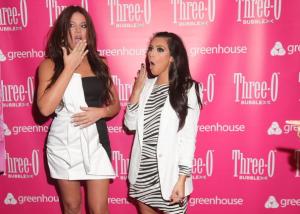 Holy hangover! Reality stars descended en masse to the introduction of Three-O Bubble Vodka at the Greenhouse nightclub on Thursday, July 9.
Hair-gelled and spray-tanned revelers sipped the bubble-gum-flavored drink of the evening while craning their necks to get a look at the upstairs VIP section, where Kim and Khloe Kardashian, Real Housewife of New Jersey Danielle Staub and The City's Erin Lucas mingled and danced to the DJ's set of—surprise!—Michael Jackson songs. Pop singer Lance Bass was also present.
NYC Prep kids Jessie Leavitt and PC "I run this city" Peterson were ejected from the premises. "This place is strictly 21 and up," said a staffer.
Looking around the eco-friendly boîte, Ms. Staub spoke of her own efforts to reuse, reduce and recycle. "I like to take my own bags to the supermarket—when I get to go to the supermarket," she said. "I feel like I'm so busy, it's a gift. I also use products that are biodegradable and come in reusable bottles. I use Dr. Hauschka—it's all organic. I've been using it for 20 years!
People think I've had plastic surgery but I owe it all to Dr. Hauschka." That's her story and she's sticking to it! Ms. Staub also told the Transom what she did to cause fellow Real Housewife Caroline Manzo to burst into tears during the reunion show: "I gave her ex-brother-in-law a phone number! That is all! Seriously!"
Ms. Lucas was nursing a cocktail. "Try it with a splash of cranberry," she suggested. "It's pretty good!" Ms. Lucas said she is not doing a second episode of The City. "I just need to figure out my next step right now," she said. Her dream job? "I want to travel and get paid for it! I want to be like Samantha Brown on the Travel Channel! But maybe for young people on a budget."
While Ms. Lucas was busy dancing with Goldbar's Patrick Cabido, Vogue cover girl Amy Lemons and publicist Kristian Laliberte, the Kardashian sisters huddled in a corner with a few friends, clicking away on their BlackBerries and appearing generally unenthused. As the Transom advanced upon them, a member of their entourage blocked our path. "We're leaving in one minute," she said. And then the two dusky beauties disappeared into the New York night.