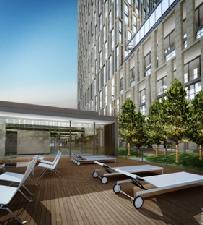 The lawsuit between Edward J. Minskoff Equities and a contractor over mechanic's liens for the luxury mixed-use condo at 101 Warren Street is not going that well for Minskoff.
A handwritten judicial decision filed on Wednesday has denied Minskoff's request for the New York Supreme Court to dismiss the 62 mechanic's liens that HRH Construction filed against the developer in February. The case will continue under the original suit that HRH filed against Minskoff.
This has been quite the dispute so far: Minskoff fired HRH from the Tribeca rental-retail-condo project, designed by Skidmore Owings & Merrill, in January for "receiving monies from 270 Greenwich and improperly failing to pay HRH's subcontractors and vendors," according to Minskoff's Order To Show Cause filed on Feb. 26.
But in its own complaint, HRH insisted, "HRH has performed all of its obligations under the contract. Despite due demand, the owners failed to pay HRH in full."
There also seems to be a small misunderstanding about how much Minskoff might owe HRH. HRH's original complaint innocently asks for "a sum of $26,977,879.00" for the 62 lots. But in their Order To Show Cause, Minskoff insists, "On or about February 17, 2009, HRH filed sixty-two (62) mechanic's liens…each in the sum of $26,977,879 for a total aggregate of liens in excess of $1.67 billion. Each of these Mechanic's Liens are patently overstated and invalid." [emphasis Minskoff]
So, is the lawsuit for $26.98 million or $1.67 billion?
Mathematical details aside, Justice Eileen E. Branson filed this decision (PDF) on Wednesday for the case 101 Warren Street Associates LLC (i.e. Minskoff) vs. HRH Construction on Wednesday:
Upon the foregoing papers, it is ordered that this motion to discharge the mechanic's lien on various properties know as Block 142, as many lots as listed on Page 2 on the OSC [Order to Show Cause] is denied. On March 5, 2009, the owners of the properties, 270 Greenwich Street Associates LLC, 89 Murray Street Associates LLC, and 101 Warren Street Associates LLC filed a bond in the amount of $29,675,666.90 discharging the mechanic's liens on claims pursuant to the mechanic's lien. The matter will continue as a regular case, under Index No. 601259-2009 (HRH Construction LLC vs. 270 Greenwich Street Associates LLC, et al.). This constitutes the decision and order of the court.
Mr. Minskoff, HRH and Justice Branson could not be reached for comment on Friday.
Updated 1:45 p.m. Monday: Edward Minskoff returned The Observer's call and had little to say about the ongoing litigation. "It's not something worth commenting about," he said. "It is what it is, and it will be decided appropriately at some point in time."
Also, Justice Eileen Branson declined to comment.
bkavoussi@observer.com