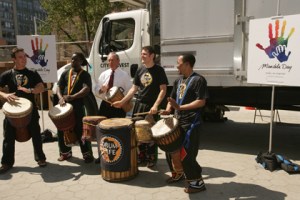 Andrew Hawkins explains why DC37 snubbed Christine Quinn.
Michael Bloomberg's commissioner, Guillermo Linares, may run for Miguel Martinez's seat.
Ydanis Rodriguez is also running and raised lots of cash for the race.
Martinez didn't fund the group that led to his downfall, Upper Manhattan Council Assisting Neighbors, until his sister joined their board.
The City Council recently pulled a $528,000 grant Martinez tried giving the group.
Since March, when story of the probe broke, Martinez proclaimed his innocence.
Scott Stringer said Martinez somehow "lost his way."
Jose Peralta called it "unsettling for the small group of Dominican elected officials."
Martinez's resignation is Noted.
It also makes the wood.
Ruben Diaz Jr. wants an investigation into how the Bronx Overall Development Corporation handled the Gateway Center Mall deal.
Ann-Margaret Carrozza said her 36 percent work attendance is "abysmal" and she'll decide later whether to seek reelection.
A Times editorial referred to mayoral control as "Bloomberg's most successful experiment."
Philissa Cramer finds a problem with one of Bloomberg's campaign pledges.
Bloomberg slammed a transportation report critical of traffic enforcement efforts. "The Police Department's job is to keep people from breaking the law. It's not necessarily to write tickets," he said.
Leslie Crocker Snyder has more money than anyone else in the Manhattan D.A.'s race.
Queen in Queens disagrees with my analysis, and says the LGDCQ endorsement was more anti-Van Bramer than pro-establishment.
Another reader questions Tony Avella's campaign strategy after he appeared in an unusual mailing.
Hope Davis will play Hillary Clinton. And don't miss the Eric Gioia mention [2nd item].
Kirsten Gillibrand hit a double.
Landlords are struggling.
Jim Dwyer finds an oddity: Not reporting you're married on food-stamp forms may not lead to added benefits, but could cost you everything. "And because she had gotten $0 — that is, zero dollars — worth of food stamps that she was not entitled to, the city now wants to stop her allocation of $106 a month."
Two Democrats will challenge a Republican-turned-Democrat board member in Islip.
A Yorktown councilman wants a vote on whether to build a senior center.