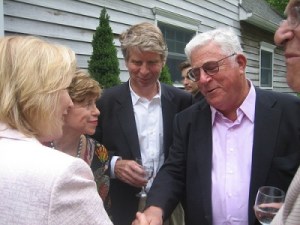 David Paterson and Assembly Speaker Sheldon Silver will be in Utica to make an announcement.
Paterson raised $2.34 million these past six months, and spent $1.8 million.
State Senator Hiram Monserrate, under indictment for felony assault, got his committee chairmanship back.
Whether the Senate takes up school governance legislation is still in flux.
The Times thinks they should pass the Assembly's "carefully balanced" bill.
Republicans want to vote for it, but don't control the active list of bills.
A measure for reforming the rules of the chamber is a "no-brainer," Republican Leader Dean Skelos said.
Many pieces of legislation will have to wait until the autumn.
"The truth will be known on Wednesday," State Senator Betty Little, a Glens Falls Republican, said.
"It's entirely possible," NYPIRG's Blair Horner said, "that this last month was really about power and not reform, despite all the acting."
Jay Walder, the tech-focused former transit chief in London, will lead the M.T.A.
He must be confirmed by the State Senate, and some senators said they're not in a hurry to cooperate.
Counties are reporting sales tax revenues are off about 10 percent.
The National Organization of Women is attacking a cartoon in the Daily News that showed Kirsten Gillibrand as a large mouth.
Bill Hammond wants Tom Golisano to stay away from Albany.
Car salesman Ken Goewey announced he is running for governor. He was wearing a funny hat.
Upstate Congressional representatives secured $4.5 million toward high-speed rail.
"We've been able to break through that old myth that if you elect a Democrat, everything will go to hell in a handbasket," June O'Neill, the retiring chair of the state Democratic party, said.