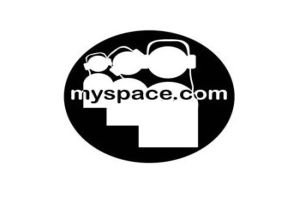 "I build for the lazy and stupid," said Courtney Holt, the president of MySpace Music, this morning. He was on stage in a New York University auditorium at the New Music Seminar, discussing how the online music service formed by the world's second largest social network and all four of the largest recording companies hopes to dominate the business. "I guess it's more of a techie thing," he explained, "not because I'm trying to downplay what we're doing but…getting ubiquitous adoption of technology is hard and you've got to remember that in terms of crafting marketing plans and creative art that works in the medium."
Mr. Holt, who left MTV Networks as former executive vice president of digital music and media in November 2008, revealed his plan for the future of MySpace Music. He plans to take advantage of MySpace Music's edge over Apple's iTunes and Amazon: social media metrics and user-generated content. Mr. Holt plans to make the site a data goldmine for figuring out what's going to be the next big thing in pop music–helpful not only to artists and users, but producers and agents, too. They'll publish trends, track influencers and create lists of top-played and playlisted content of not only major bands and artists but also of all the independent work on millions of MySpace artist pages. If done right, they could create a new kind of Top 40 hit list for online music. Mr. Holt said he also hopes MySpace Music will be the "most informed" how-to guide to transitioning from a dive bar band to the next big act at Madison Square Garden.
"I do see this as a platform for obscure artists that are looking for an opportunity to be noticed and I think it's our duty, myself and my team's duty, to figure out how we can rise above obscurity," Mr. Holt said. "Some of that is going to be based on data, a large percentage, because we start to see trends and information that informs decisions in how we market or promote."
He said new data-focused features will start rolling out in mid- to late- August and continue during the next three months.
Mr. Holt said he keeps a list of what kind of bands and artists are going to break out based on MySpace Music's behind-the-scenes metrics. And he doesn't just pay attention to "play counts" of specific songs or artists, but the "playlists" made by users and shared on their profiles.
"It's more interesting to know that the artist is being playlisted than played," Mr. Holt explained. "Because played is just sort of a passive experience, 'Oh, I'm gonna check that out.' But if I get a couple that are actually republishing that to my audience, to my social graph, to my friends, to share it–the sharing of the music is, to me, a better means of understanding virality and interest."
Mr. Holt said they'll even be paying close attention to how many times a user plays a song or adds an artist to their playlist before they actually buy a CD or purchase a ticket to a show and support the band. They're trying to unlock the secrets behind the conversation from "discovery mode" to "conversation mode."
He added that there aren't as many "loud media outlets," like radio, that are willing to take chances on new artists. "Despite the fact that I think the iPod shuffle has changed the minds of the consumer, most radio stations don't have permission, outside of maybe college radio stations, to play Miles Davis and Bad Brains back to back. You just don't hear that," he said. "And yet if you look at the types of playlists that people are creating on our platforms, they are that. You get randomness, you get obscure, you get songs that come from different places and it doesn't feel like a sonic trainwreck, like things just bombarding you. People, they want that randomness, and that notion that they're in control of their programming."
So perhaps MySpace Music will take on a more Pandora-like approach to programming their featured playlists and own online radio station.
Mr. Holt said it is one of his priorities for MySpace Music to make money for the broader music industry and plans to offer more opportunities for users to buy products. He said this after New Music Seminar director Tom Silverman kicked off the event by displaying dismal charts–with plummetting graph lines–denoting music sales. According to his numbers, 105,575 albums were released in 2008, and just 110 artists sold more than 250,000 albums that year. Although digital sales have been higher and will continue to grow.
But all those slumpy sales might have something to do with why MySpace's new chief executive, Owen Van Natta, who reportedly wants to move away from the music focus and reposition as a "window for the youth (16-30) to reflect all their creative talents," according to a source who spoke with the London Telegraph. News Corp. chief executive Rupert Murdoch recently said MySpace needs to be refocused "as an entertainment portal" and a place where "people are looking for common interests," according to the Wall Street Journal.
But MySpace is only one partner in MySpace Music, and all those record companies who invested in the new venture are banking on musicians selling more than a couple hundred thousand albums. "We haven't done a great job of thus far but we're working toward make it better for more bands to get exposure," Mr. Holt said.