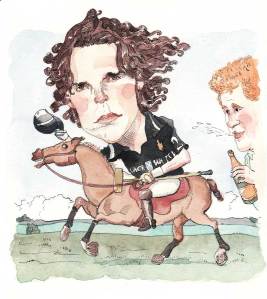 Pucho is a sorrel-colored gelding with a white stripe down his face, big haunches and bulging leg muscles. He's all power.
Brasita is small, dark and feminine. Notice her well-formed knees and fetlocks as she coyly paws the shavings on the floor. The mare's got great moves.
"With her, you try get a little more sneaky," polo sensation Nacho Figueras explained on a recent sunny afternoon in Bridgehampton. He was giving me a tour of the pipe-and-sheet-metal stables where the Black Watch Team "ponies," as polo horses are often called, will be living for the next two months. "But with [Pucho], you try to make a play where you hit the ball and run."
Mr. Figueras, 32, gestured at a sign above the stall of another pretty horse. (The bare-bones mobile horse lodgings located at the southeasterly corner of the Two Trees Farm, at 849 Hayground Road, which during the summer months is leased to the Bridgehampton Polo Club, does at least allow its visiting world-class athlete the dignity of an engraved plastic nameplate.)
Polo season in the Hamptons has arrived. The inaugural Mercedes-Benz Polo Challenge match last Saturday made it official. The high-goal tournament was founded in 1995 by longtime patrons Peter Brant, the publishing tycoon, and Neil Hirsch, who founded Telerate, a financial information service, which he sold for 1.5 billion in 1990 and who owns Mr. Figueras' beloved Black Watch team—Mr. Hirsch and Mr. Figueras are 50-50 partners in whatever proceeds may befall the Black Watch brand—and the match has since become one of the sport's most sought-after trophies. For a time, it was also the clock around which other Hamptons polo-related activities were set. Mr. Figueras is changing all that.
The Manhattan Classic exhibition match that took place on Governor's Island May 30 and featured a galloping, and later Champagne-spewing, Prince Harry—that was Nacho.
"I worked 18 months to get that thing going," he said. "We did the first one May 2008 and then 12 months later the second"—which benefited hugely from the presence of Nacho's personal friend Prince Harry, on only his second American visit.
"The most satisfying thing was the general admission," he went on. "Five thousand people came in for free to cheer us on. They had a great day with their families and their kids, and that's the truth about the sport."
TO PLAY POLO yourself is very expensive. Mr. Hirsch said that keeping Black Watch afloat runs him a "couple million dollars" a year. But Nacho argues that it's far more accessible on those grounds than Formula One racing, which regularly draws viewers to television and massive crowds to racetracks.
At present, Nacho says Americans don't understand polo as a sport as much as they do as a brand. "Polo Ralph Lauren is bigger than the sport here," he offered.
Mr. Figueras, who's done a fair amount of modeling for the company over the years and was recently tapped to be the face of Ralph Lauren fragrances, is in a position to beat them and join them. When he smolders at you from the pages of glossy magazines on horseback, or glancing over the back of a white sofa with a blue bottle of cologne floating all Photoshoppy in the foreground, or competing on the field in as many tournaments as he and his team can muster, he's popularizing both the fragrance and his own sport.
He believes polo has had a huge year. There was the success of his own Manhattan Classic, and two new tournaments have popped up in the month of June, the Courage Cup in Virginia just outside Washington, D.C., and London Polo in the Park.
But the year's biggest media hit for the sport of polo had to have been the tragedy that befell this year's U.S. Open, before which the horses belonging to Black Watch's opposing team began suddenly dropping like flies. It's what Mr. Figueras calls the worst day of his life.
"We were getting ready to play at the stadium, and I was putting on my boots, and my manager came to tell me," he recalled. "So we went to look, and I got all my guys, and we went to help the other team as all their horses were sick. We brought over all of our things to try and hydrate them, but they all just started falling down. We were just trying to save them, but there was nothing we could do.
Naturally, what followed was a media feeding frenzy that cast the whole thing as a vendetta being repaid on the owner of the team, Venezuelan multimillionaire Victor Vargas, a frequent presence at Bridgehampton Polo Club and a consummate gentleman, according to Nacho.
"In a cynical way, it did bring attention to the sport," he offered. "It allowed us to show how much we loved our horses, though. At the moment, we were not on opposing teams; we were all working together."
(He says nobody in his circle believes the horse-poisoning was sabotage: just a very bad pharmaceutical error.)
Mr. Figueras' first Hamptons season was the summer of 1999 and, incredibly, almost upon arrival, Mr. Figueras sucked the air out of whatever room there was for polo celebrity. Rumors flew that he was being squired around by Rita Schrager. ("Total bullshit," he says.)
Then, at a cocktail party the following year, socialite Susan Berch introduced him to photographer Bruce Weber, who thought he would be perfect for Ralph Lauren. Mr. Lauren agreed: Meet Nacho the model!
Of course, Mr. Figueras is not even in contention among the top polo players in the world: His best ranking was 7-goal; there are at least 20 10-goal players. But with all the Hamptons kismet surrounding him, and his dark good looks, it was very quickly and definitively decided: As far as New York was concerned, Nacho Figueras was the face of polo.