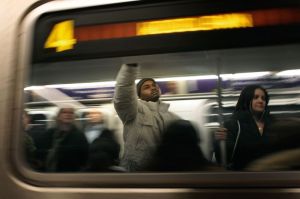 New York state's official transportation and travel service, 511NY, recently debuted Twitter feeds for New York–area subway lines and highways that alert commuters to traffic conditions and emergencies.
There are 12 traffic accounts for regions all over the state, including the New York City area (a recent tweet: "Accident on FDR Drive North at 79th St (Manhattan) left lane closed"). There are also accounts for nine subway lines, categorized by color (a recent 4-5-6 line alert: "Due to Track fire at Atlantic Ave Sta, Southbnd # 2, 3, 4 & 5 Lines local service only…").

Todd Westhuis, project director for 511 and the state's department of transportation, told The Observer that Port Authority PATH feeds might soon be on the way, too.

There have been unofficial M.T.A. subway Twitter feeds, but these are the state's first official accounts alerting commuters to emergency advisories. Currently, the M.T.A. has four official Twitter accounts, MetroCardDiane, MetroCardMatt, NYCTChantal, and MetroCardLisa, which were created in April so MetroCard employees could promote events and deals.
The state launched the free traffic advisory service's interactive phone system in June, allowing callers to access information from state transportation and police agencies about highway conditions, construction reports and emergency alerts.
Mr. Westhuis told The Observer that the Twitter feeds were launched about a week and a half ago and automatically post service advisories fed into a giant database by 16 different agencies, including the M.T.A. and the city's police department.
According to the 511NY site, traffic management centers monitor and provide traffic condition information to the 511 NY system. Staffs at these centers receive highway condition information from police and transportation officials, motorist assistance patrol drivers, 911 calls, construction crews, traffic cameras and roadway sensors. Transit information comes from public transportation agencies. Weather conditions, forecast information and alerts are provided by the National Weather Service.

The data is leaked out into different formats, including a Web-based one, and the Twitter feeds.
Mr. Westhuis said no humans are running the accounts—yet. "We don't actively monitor the Twitter accounts, it's an automatic system," he told The Observer.
So other Twitter users who might want to alert the accounts to things they've seen on the subway or along the highways will have to get in touch with the M.T.A. or the official 511 service—through the Twitter feed.
"We don't use the service as a reporting tool," Mr. Westhuis said. "If they want to tell us there's there's an event on the way, we have verification procedures and we need to be able to verify that something is on the way. We rely on the emergency agencies to do that for us."
He did say the 511NY program is expanding and may consider a citizen reporting tool for the future.
"We're going to head in that direction of putting more information in by other means to improve the databases and the amount of information that we collect," he said. "It's going to come with time."