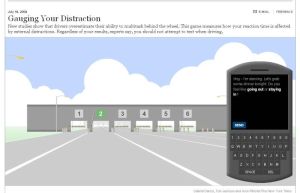 The New York Times interactive team is getting playful with their new feature: Gauging Your Distraction. Launched on July 19th, the online game measures how users' reaction time is affected by distractions and complements an article on how fiddling with our phones makes us a hazard behind the wheel. Last week, the New York State Senate approved a ban on texting while driving.
The flash game puts users on a racing track with a driver's point of view. They type in number keys (1-6) to switch lanes and pass through open gates, indicated by green signs. It's easy (and surprisingly addictive) until a little BlackBerry-looking graphic pops up. On the tiny screen, there are "text messaged" questions from "NYTimes.com," like "We're going to make pizzas tonight, what's your favorite topping: pepperoni, mushroom or plain?" Users reply by using their mouse and clicking letters on the phone, all while zooming to different lanes to avoid crashing into the wrong gates. Turns out it's tough to multitask!
Gauging Your Distraction was built in two weeks by two senior multimedia producers, Gabriel Dance and Tom Jackson, with help from interactive news technology editor Aron Pilhofer. Mr. Dance said this is the first game he has built for The Times. "There was actually a lot of discussion of whether we wanted to call it a game or not," Mr. Dance told The Observer in an interview today. "We certainly did not want to encourage anybody to think that there was an ability to win or to do well texting and driving. We had to be thoughtful for that kind of thing."
In the game, after the user replies to three text messages, they get a score page, with stats and graphs on their reaction times while texting, which can be compared to the average users' reaction times. The Times included a kind of disclaimer at the top of the screen: "Regardless of your results, experts say, you should not attempt to text when driving."
Mr. Dance said the team consulted professors to help them build the game and debated on how realistic it should be. "But the toughest problem was trying to tailor the game to our audience," said Mr. Dance, 28. "The audience is generally older than I am and a lot of other people who play games." So when they tested earlier versions with younger people in the newsroom or with their kids, "they would have a tough time but generally it would work the way we planned it to," according to Mr. Dance, who sent the game to his family to try out before it was released. When they tested it among older folks, in say, Aunt Mabel's age bracket, "they would do terribly," he explained. "So they would say this is much too difficult."
But they ended up tailoring to the younger people, since they'd be the ones more likely to try out the game online in the first place. "Games shouldn't be taken seriously," Mr. Dance said. "There's no winning or losing—it's really to prove a point [that] it was impossible to do better texting while driving without hitting the gates."
As The Observer reported in June, online games are an innovative way for newspapers to engage their audiences and teach nuances in complicated stories. On this game's results page, there are links to more information, like a fact sheet from the National Safety Council and scary statistics. Did you know cell-phone use contributes to an estimated 6 percent of all crashes and 2,600 deaths each year? Yikes!

Mr. Dance said the game was "pretty well received in the newsroom" and with online users, so look for more online games built for NYTimes.com in the future. "I think this will add a little bit of credit that games can be a teaching mechanism, a learning mechanism," he said.
But it's still very difficult to create an interesting game on a deadline, he said. Mr. Dance and Mr. Jackson would know from the late nights coding Gauging Your Distraction. "I wouldn't want to have to make a game for everything," Mr. Dance admitted.