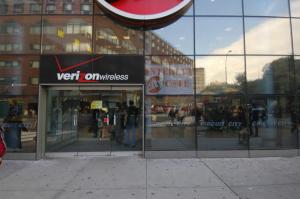 After months of speculation, Nordstrom Rack, in its eminently corporate way, has officially announced over the wire that it will open its first Manhattan store at One Union Square South, in the building owned by Stephen Ross' Related Companies.
Meanwhile, Best Buy will take the old Circuit City space in the same building.
(Updated) R. Webber Hudson, executive vice president of Related Urban Development, said that Best Buy would open this fall, and Nordstrom Rack, in Virgin's old space, the first quarter of 2010.
Competition for the space was pretty stiff.
"It's a the most improtant marketplace in the United States," Mr. Hudson said. "And we're in one of the key hubs."
Winick Realty Group represented Related in its negotiations with Ripco Real Estate, which represented Best Buy, and with Madison Retail Group, which represented Nordstrom Rack.
Read the whole release below!
NORDSTROM RACK TO OPEN FIRST MANHATTAN STORE AT ONE UNION SQUARE SOUTH SEATTLE (July 21, 2009)—Seattle-based Nordstrom, Inc. (NYSE: JWN), a leading fashion specialty retailer, announced it will open a 32,136 square-foot Nordstrom Rack, a unit of the company's off-price retail division, in Manhattan at One Union Square South on 14th Street between Broadway and Fourth Avenue on the south side of Union Square Park.
Scheduled to open in spring 2010, this will be the retailer's first Nordstrom Rack in Manhattan.
"We're pleased to announce the first Manhattan Nordstrom Rack," said Scott Meden, president of Nordstrom Rack.
"This is a rare opportunity that opened at the right time for us. Union Square is a thriving retail area and is an ideal location for the city's first Rack. When we open for business next spring, customers can expect to find savings on merchandise from many of the same brands carried at Nordstrom stores."
Nordstrom Rack carries merchandise from Nordstrom stores and Nordstrom.com at 50-60% off original Nordstrom prices. Nordstrom Rack also offers a wide selection of apparel, accessories and shoes from many of the lines carried in Nordstrom stores and purchased specially for Nordstrom Rack, with most at savings of 30-70% off. In the tri-state area, the company currently operates eight Nordstrom stores and three Nordstrom Racks. "Nordstrom is one of the nation's leading fashion retailers and we are delighted that they have chosen Union Square, one of New York City's most desirable commercial destinations for their first Manhattan Nordstrom Rack store.
Related has played a key role in the revitalization of Union Square for over a decade and we are proud to continue to contribute to the transformation of the area," said Jeff T. Blau, president of Related Companies.
One Union Square South consists of a 22-story luxury residential rental tower located above a five-story retail block that includes Regal Cinemas and several other prime retail spaces. The building's façade features a public artwall containing the mixed-media Metronome by Andrew Ginzel and Kristin Jones that was at the time the largest private commission of public art in New York City's history. Nordstrom Rack at One Union Square South will have 30 feet of street level storefront and will occupy the lower level of the former Virgin Megastore. Also joining Nordstrom at One Union Square South is Best Buy, which is expected to open in the former Circuit City space during the fourth quarter of 2009.
One of the most vibrant districts in New York City, Union Square is a dynamic center of food and fashion, culture and cutting edge businesses. The approximately 12,000 businesses located within a half-mile radius of Union Square employs about 140,000 people. Union Square is home to the City's oldest Greenmarket, a beautiful historic park, and hundreds of restaurants and shops. Related was formed over 37 years ago and is today considered the most prominent privately owned real estate firm in the United States with divisions in development, acquisitions, property management, marketing and sales.
Headquartered in New York City, Related has offices and major developments in Boston, Chicago, Los Angeles, Las Vegas, San Francisco and South Florida and boasts a team of more than 2,000 professionals. Related has real estate assets worth over $15 billion, including New York City's newest landmark Time Warner Center. For more information about Related Companies please visit www.related.com.
Related has long been committed to the Union Square area, having completed historical redevelopments (the Century Building on 17th Street and the W Union Square Hotel on Park Avenue South), as well as newly-constructed buildings (The Sierra on West 15th Street and One Union Square South at the base of Union Square). Related President Jeff Blau also serves on the board of directors of the Union Square Partnership.
Nordstrom, Inc. is one of the nation's leading fashion specialty retailers, with 175 stores located in 28 states. Founded in 1901 as a shoe store in Seattle, today Nordstrom operates 111 full-line stores, 61 Nordstrom Racks, two Jeffrey boutiques and one clearance store. Nordstrom also serves customers through its online presence at www.nordstrom.com and through its catalogs. Nordstrom, Inc. is publicly traded on the NYSE under the symbol JWN. ###