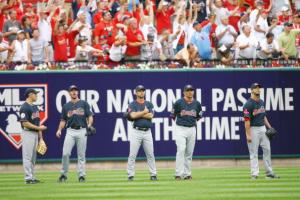 America may have talent. But so does the MLB. Last week, Major League Baseball trounced every other talent competition during a summer seemingly full of them. Even ESPN's coverage of the Home Run Derby scored big. Prince Fielder is ratings gold!
(1) Fox-5….MLB All-Star Game.…1,228,000
(2) Fox-5….MLB All-Star Pre-Game….1,044,000
(3) ESPN….Home Run Derby….640,000
(4) Disney….Wizards on Deck with Hannah Montana….569,000
(5) ESPN….Home Run Derby….541,000
(6) WXTV-41….Manana Es Para Siempre.…530,000
(7) WCBS-2….CSI: Miami.…526,000
(8) WABC-7….Primetime: Family Secrets.…524,000
(9) WCBS-2….The Mentalist.…520,000
(10) Fox-5….So You Think You Can Dance (Wed)….513,000
Top 10 shows in New York, June 13 to July 19, according to Nielsen Data (total viewers, time shifting/DVR not included).