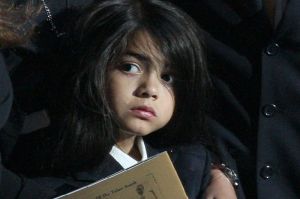 With the pressing question of "What in the world ever happened to Bubbles?" successfully put to rest (thanks, CNN!), inquiring TV viewers turned their attention last week to another nagging question from the Michael Jackson saga. Namely, "What in the world will happen to Blanket?"
And so it was that ABC News' Primetime special, "Family Secrets: The Children of Michael Jackson," rocketed to the top of the charts in New York, crushed everything in its way, and once again proved the immutable mathematical formula that in prime-time TV, three celebrity children always get the best of Two and a Half Men.
Also, getting Joe Jackson on camera never hurts. Well worth the money.
Here are the top 10 shows in New York, July 6 to July 12, according to Nielsen Data (total viewers, time shifting/DVR not included):
(1) WABC-7….Primetime: Family Secrets: The Children of Michael Jackson….860,000
(2) WNBC-4….America's Got Talent (Wed)….672,000
(3) WCBS-2….Two & a Half Men….603,000
(4) WCBS-2….60 Minutes….596.000
(5) WCBS-2….NCIS….578,000
(6) WCBS-2….The Mentalist….546,000
(7) WABC-7….20/20 Remembering Michael Jackson….540,000
(8) WNBC-4….America's Got Talent (Tues)….535,000
(9) WWOR-9….Yankees Baseball….527,000
(10) Fox-5….So You Think You Can Dance (Thu)….518,000