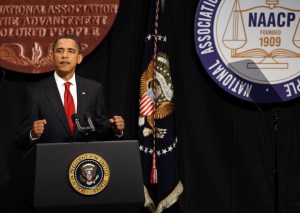 Not all the attendees of the NAACP's national conference, held at the Hilton Hotel in midtown this week, got into the third floor ballroom to hear President Barack Obama's highly anticipated speech last night.
By the northeast entrance of the Hilton's lobby, across from a sign directing participants of the Korea Global Healthcare Conference to the hotel's second floor, a crowd gathered in front of a flat screen television sponsored by AT&T and promoting NAACP Webcast.com ("Text, Call or Tweet Your Friends").
They watched attentively as the panning camera focused on the back of the Rev. Al Sharpton's graying, anvil-headed hair as he ate dinner.