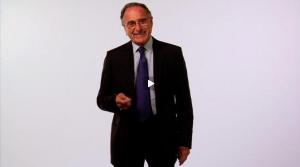 It's the biggest Macklowe family news since Harry was forced to hand over New York City's most coveted skyscraper to the uncompromising bean-counters at Deutsche Bank.
OldJewsTellingJokes.com has lured the eminent developer into telling a joke, on camera, for its Web site! And, to be honest, it's kinda funny!
We know this is a strange modifier to apply to a once voracious developer, but in the clip, Mr. Macklowe is adorable. And brave (or tin-eared, take your pick). The once-acquisitive developer's joke, after all, is about kleptomania.
Conjuring the Yiddish-inflected Jewish comedy of the 1950s Catskills, Mr. Macklowe, in black suit and purple tie, shares the following yarn:
"Another couple, but they're friendly, is in a supermarket. She has a problem. She steals. She's a kleptomaniac. She steals a can of fruit. She's taken before the magistrate.

"The magistrate says, 'Sara, how could you do something like that? Vat did you take?'

She said, 'I just took a can of peaches.'

He says, 'Peaches you took! How many peaches?'

She says, 'I think there were six peaches in the can.'

He says, 'Sara, you are going to go to jail for six nights. That's it! It's final.'

She said, 'Oh, my god.'

Her husband stands up and says, 'Your honor! She also stole a can of peas.'"
Update: Mr. Macklowe could not be reached for comment, but Sam Hoffman, the creator of the site, explained to The Observer how he got the developer to participate.
"My wife and Billy [Macklowe] are longtime friends and kind of grew up together in New York, and so we see the Macklowes socially occasionally," Mr. Hoffman said. "And I know that they're all very funny, and Harry actually was very positive about the site from the very beginning. So when I saw the opportunity and was going to do the shoot in New York, I asked him to participate."
Mr. Macklowe joined a bunch of other Jews over 60 years of age, including Ed Koch, at the Harris Lieberman Gallery on Vandam Street one evening in April for the shoot. He told two other jokes, which will air in the coming months.
The developer performed his shtick before an in-person audience of about 50. Online, the site has had more than 3 million unique video plays since it launched at the end of January.
drubinstein@observer.com