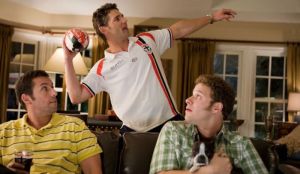 We sure hope you had a good summer at the movies: With Aug. 1 falling on Saturday, we're looking at five whole weeks of middling-to-crappy Hollywood genre fare that wasn't strong enough to open during the big-boy months of May, June and July. As we do every Friday, here's a handy guide to the new releases.
Funny People
What's the story: Pretentiously promoted as "the third film from the director of The 40-Year-Old Virgin and Knocked Up," Funny People finds Adam Sandler playing Adam Sandler—err, George Simmons—a wildly successful comedian and star of such things as Merman (think: Waterboy with gills), who finds out he's dying of a rare blood disease. Faced with his own mortality, he makes a friend in an up-and-coming comedy protégé (Seth Rogen) and rekindles a relationship with "the one who got away" (Leslie Mann), until—surprise!—his disease starts to get better. The meditation on love, life, death and dick jokes sounds very James L. Brooks–ian to us, which begs the question: Is Funny People Judd Apatow's Terms of Endearment or Spanglish? Based on the mixed-to-poor reviews, we're unfortunately thinking it's more of the latter. In his hilarious evisceration, our own Rex Reed calls Funny People a "146-minute mental lapse that should have been dipped in hydrochloric acid in the editing room," and highlights the script as "amusing as infanticide." We're guessing someone just got taken off the Apatow Family Christmas card list.
Who should see it: Garry Shandling.
Aliens in the Attic
What's the story: As if you couldn't tell from the title: While on a family vacation, a bunch of precocious kids find aliens—wait for it—in the attic. Aliens in the Attic is being billed as coming from one of the writers behind Wallace & Gromit in the Curse of the Were-Rabbit, a bit of information ostensibly intended to make you want to run out and see it. That's all well and good, but even if we were in the target demographic for this film, we don't think we could get past the computer-animated aliens. If you thought we've come a long way since Who Framed Roger Rabbit, you were wrong.
Who should see it: Judge Doom.
Adam
What's the story: Bittersweet and charming are two words you'll see associated with Adam aplenty throughout the rest of the summer. The Fox Searchlight indie, from director Max Mayer (episodes of West Wing and Alias), stars handsome British actor Hugh Dancy as Adam, a young man suffering from Asperger's syndrome. Of course things get complicated when he falls in love with the neighbor next door (the beguilingly beautiful Rose Byrne). The reviews for Adam have been universally strong, specifically singling out Mr. Dancy as a revelation. If you don't think this could be a dark horse Oscar contender, we have five words for you: Tom Hanks in Forrest Gump.
Who should see it: Forrest Gump.
And! For some indie-fun, check out: Fragments (with Dakota Fanning) and the dolphin documentary, The Cove.