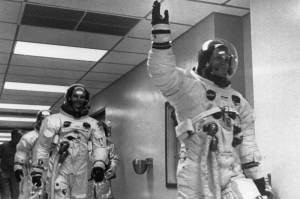 If Victoria's Secret angel Adriana Lima had actual wings that could carry her from Earth to outer space, she would visit the moon.
"Because I love the moon, actually," Ms. Lima told the Transom, citing the spherical satellite's feminine mystique, and the fact that she kind of sees herself "in a weird way" in the orbiting rock.
"I have a tattoo here in the shape of half a moon," said the model, whose pleated moon-dust-colored dress artfully concealed her pregnancy. She turned her left leg outward, and gave the Transom a view of her inner ankle. There it was, the moon!
The moon, and the 40th anniversary of the first moonwalk, was the raison d'être for the July 13 party at the American Museum of Natural History's Rose Center for Earth and Space. Buzz Aldrin, the second man on the moon, was there. So were the gregarious Jim Lovell (played by Tom Hanks in Apollo 13) and Sally Ride, of space shuttle fame.
Louis Vuitton sponsored the event, and when the Transom caught up with the fashion house's U.S. president and CEO, Daniel Lalonde, he said that if he had his pick of outer space attractions, he would visit Mars.
"I feel like we've already been to the moon," said the absurdly handsome business executive. "I think we should be at Mars by now. Someone's got to make that happen."
Discovery Channel leading man Josh Bernstein would go there, too.
"Well, I think Mars is a good first step."
Why?
"Because we have our rovers there and our landers and it would be nice to see what's actually on the ground and what's actually … below the surface," Mr. Bernstein explained.
Is any of this all that important?
"I do think it is important," he said. "I think it represents our reaching beyond ourselves, in a metaphorical sense, and also the culmination of putting together science, technology and travel, which is fascinating."
Downstairs, partygoers milled about antique space toys and the Willamette Meterorite. The brave ones took turns standing on a scale that calculated their weight on Halley's comet. (Word to the wise: It adds more pounds than television.) Glittery stars were projected onto the convex screen above. Michael Jackson played on the stereo. Alliums, which, come to think of it, are very alien-looking flowers, were arranged about the room like so many molecular models.
Partygoers picked at moon-shaped risotto balls and spherical Rice Krispie treats covered in white chocolate.
The Transom finally got Buzz Aldrin's attention after he'd finished up yet another round of photos with on-hand celebrities, including Gossip Girl's Jessica Szohr, who, by the way, would go to the moon, because, as she quite rightly pointed out, people have successfully returned from it.
"Mr. Aldrin! Could we talk to you about your new book?"
Mr. Aldrin planted the Transom with an androidal blue eye.
"No," he said. And then he turned away.