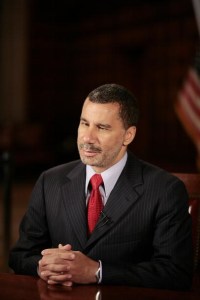 ALBANY—David Paterson announced he has vetoed 14 bills, claiming savings to the state of $5.7 million.
Earlier this year, angry at legislators for not introducing his legislation to enact a spending cap, Paterson threatened to veto bills that spent money. Here's a list from the governor's office of his latest victims:
A.1800/S.2210, which could have cost New York City an estimated $162 million by changing the definition of the word "income" as related to the way in which seniors' out-of-pocket medical expenses are treated in the tax code;

A.8103/S.5261-B, which would have provided $5 million in State Lottery Aid to a school district with an unbalanced budget, thereby setting the dangerous precedent of encouraging schools not to balance their budgets and wait for Lottery Aid to bail them out;

A.8864/S.6074, which would have increased costs to the State's student loan program;

A.8694/S.5824, which would have changed the date on which the City of Syracuse could have requested aid money, allowing the city two aid payments in the amount of $10 million for its current fiscal year;

A.8374/S.5073, which would have reduced the power of the Buffalo Fiscal Stability Authority (BFSA), despite the BFSA's important role in restoring the city's financial health;

A.4166/S.3594, which would have authorized the Urban Development Corporation (UDC) to award $250,000 grants out of its existing funds for shared-use kitchen facilities, though UDC has no way currently to cover this cost;

A.5788/S.2706-A, which would have given the Town of Islip Tax Assessor the ability to change the way in which its property taxes are levied – a power that the Assessor expressly disavowed;

A.6532-B/S.4405-A, which would have obliged the Crime Victims Board to cover transportation costs for basic hearings at which there is no compelling reason for the plaintiff to appear;

A.8515/S.2756, which would have allowed the Highland Falls Central School District to repay State Aid over six years instead of three; and

A.1356A/S.714-A; A.4587-A/S.693; A.4767/S.1796; A.5364-A/S.2230-A; A.7202-A/S.3650-A, which would have allowed local school districts to receive or retain State aid despite the fact that, in each instance, the district violated State bidding or cost reporting requirements.