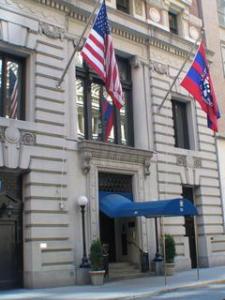 The Penn Club is on the road to become a New York City landmark.
Today, the city's Landmarks Preservation Commission was expected to add the University of Pennsylvania's club at 30 West 44th Street to the agency's calendar, an act that starts the landmark process and typically results in designation.
The building, an 11-story Tracy & Swartwout-designed structure, was built in 1901, originally opening as the Yale Club. Yale then moved to Vanderbilt Avenue in 1915, and a series of other owners drifted in and out, including the Army and Navy Club, and Touro College, which used the building as academic space.
The Times featured the building when Penn bought it in 1989, calling it the city's first "uncompromisingly high-rise clubhouse." From the article:
The unusual thing about the Yale Club building was its obvious height. The University Club, completed in 1899 at 1 West 54th Street, had camouflaged 11 floors behind a facade that appeared to be only three, but Yale's was the first uncompromisingly high-rise clubhouse, towering over the neighboring stables and club buildings.
The Landmarks commission also calendared the B.F. Goodrich Company Building at 1780 Broadway, a Howard Van Doren Shaw-designed, 1909-built building on 57th Street.
ebrown@observer.com