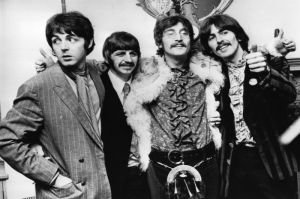 Following the surprise success of Pride and Prejudice and Zombies, in which Jane Austen's classic comedy of manners is retold as a horror story featuring the undead, Pocket Books has signed up another zombie mash-up book. This one is about the Beatles, and it will be called Paul is Undead.
Author Alan Goldsher said in an interview yesterday that the plot of the book will closely follow actual events. "It's the story of the Beatles, if they were zombies," Mr. Goldsher said, noting that Ringo will actually be a ninja.
Mr. Goldsher's literary agent, Jason Ashlock of Moveable Type, explained further: "In the book, what we now term the 'British Invasion' was a zombie invasion, where their intent was to take over the world with their zombie mayhem."
Mr. Ashlock said that, initially, he and his client were talking about "zombifying" another classic, but decided they didn't want to just ape the conceit of an existing title wholesale. Mr. Goldsher came up with the Beatles idea instead, and Mr. Ashlock sold it in a preempt to Pocket three days after putting it on the market.
"We know this monster mash-up craze can only last so long," Mr. Ashlock said. "We chose this idea because it was inventive enough with the Beatles element that it could outlast what might not be a long-lasting trend. We were trying to think of something that wouldn't just be cool next year, but would continue to sell as an interesting item for many years to come."
The folks at Pocket Books, an imprint of Simon & Schuster, believe the zombies trend has serious legs. Earlier this month, deputy publisher Anthony Ziccardi announced that Pocket would publish seven zombie-related books in conjunction with a small press that specializes in horror. At the time, Mr. Ziccardi told Publishers Weekly, "We are thrilled to have the opportunity to work with Permuted Press and expand their very successful brand. We feel the horror genre, and zombies in particular, will be a growing category at retail. Even Hollywood seems to be focused on zombie tales and we feel that we are well positioned to capitalize on this trend."
In an interview today, Mr. Ziccardi backed up his point further by pointing to the public's renewed enthusiasm for Michael Jackson's "Thriller" video, which features the late singer and his entourage dressed up as zombies.
"That video, more than any of his other videos, has been getting the most attention," Mr. Ziccardi said. "It just sort of plays into the whole zombie interest."
Mr. Goldsher, who has written a number of novels and a history of the band Modest Mouse, wants to make Paul is Undead into a franchise. He noted that Pride and Prejudice and Zombies is being adapted into a graphic novel.
"We're hoping to make a brand out of it," he said. "My dream—and we have spoken to producers, both of the TV and film variety—is to make it an animated miniseries, done in the style of Yellow Submarine. That would be so fun."
Paul Is Undead will be published by Pocket next June. In the meantime, Mr. Goldsher and Mr. Ashlock are trying to sell another book, a monster-themed parody of the blockbuster self-help book The Secret titled The Secretion.