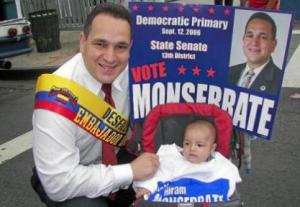 ALBANY—Unions representing police and corrections officers contributed $2,450 to State Senator Hiram Monserrate's campaign committee, which he in turn used to defend himself against felony assault charges stemming from an alleged domestic violence incident, campaign filings show.
Monserrate was charged in December and indicted in March for cutting his girlfriend's face with a piece of glass during an argument. (Both Monserrate and his girlfriend say what occurred was an accident.) In February and March, campaign filings show, the New York City Patrolmen's Benevolent Association gave Monserrate $950; the State Correctional Officers and Police Benevolent Association gave $1,000 in February and the New York City Deputy Sheriffs Association PAC gave $500 in March.
On January 15, records show, Monserrate's committee logged a $2,000 payment to attorney Edward Irizarry and $7,500 to Irving Seidman, who continued the case. It is now being handled by Joseph Tacopina.
"If he's going to use that money for defense, everyone who gave money to that fund should demand it back," State Senator Marty Golden, a Republican former police officer and outspoken Monserrate critic, said. "Sometimes elected officials have been known to use their campaign funds for legal matters because it's job-related. And then there are those that are arrested for criminal acts. He stabbed that woman in the face with a broken glass on his own time in his own apartment. It had nothing to do with government business. Anyone giving him money–especially law enforcement–for his defense should be appalled."
"Their willingness to fund someone who has been indicted for a violent crime is certainly a contradiction when looking at these kinds of issues," said Marcia Pappas, the president of the New York chapter of the National Organization of Women. "The fact that these police departments would have bureaus or departments that help victims of domestic violence, and yet in turn would give money to someone who was indicted for such a crime is such a contradiction and such hypocrisy."
Joseph Mancini, a spokesman for the PBA, did not immediately return a call seeking comment. The Corrections Officers PBA did not return a call seeking comment. I couldn't find a working number for the Sheriffs Association.
Monserrate also declined to comment, but told me in January that "campaign committees routinely spend money on legal expenses that are related to the campaign, to the candidacy and to the candidate." He also asked his colleagues to help fund his legal defense.
In total, Monserrate raised over $42,000 since January. The Queens Democrat was one of two people to defect last month and spark a month-long leadership struggle; he was rewarded by fellow turncoat Pedro Espada Jr. and other members of the so-called "four amigos."
UPDATE: Mike Nieves, a Monserrate aide, said that after receiving advice from attorneys the senator repaid $7,500 to the campaign committee in May to cover the money spent on legal bills. The transfer is listed as a contribution with "repayment" as the explanation.