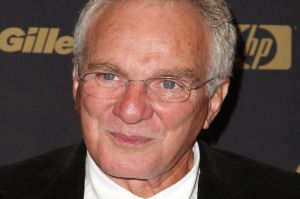 David Yurman's "sunset over the Hudson" party on Tuesday night was just like his jewelry: beautiful, unique and simplistic.
The rooftop of David Yurman headquarters at 24 Vestry Street was lined with white, long couches that were covered with black and white pillows with the letters "DY" embossed on them. Scattered amongst the bare wood floor were tall, white stands with pieces of Yurman's line.
The rest of the setting was left up to the weather.
And mother-nature delivered! The sun was so bright that people were stationed at the entrance handing out sunglasses. "If they're David Yurman, I am going to steal them," said Selita Ebanks, the Victoria's Secret model. "I love everything they make."
The party was the third annual for the company. "Each year it grows," said Mr. Yurman. "We keep growing and rolling. About two percent said they couldn't make it but we are over a hundred percent. I think we invited 200 people and 300 showed up!"
Arlenis Sosa, a Victoria's Secret model like Ms. Ebanks as well as the new face of David Yurman, looked great in her mini-dress. "I am so excited to be here and see David," she said.
"Its perfect right now," Ms. Sosa told the transom. "So many people are here and they are all really nice."
Socialites Byrdie Bell and Hilary Rhoda, and Real Housewives' Kelly Bensimon, were also there to soak up the sun.
While at the high point of the evening, the floor was so flooded with people that guests could barely move, Mr. Yurman was more delighted than concerned. "This is a moment to share, a moment to smell the roses on the terrace."
We couldn't help but note that there wasn't a single flower in sight.