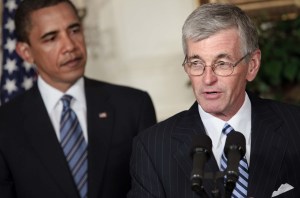 ALBANY—Representative John McHugh's nomination as Army secretary was sent to the U.S. Senate Monday, and the field of potential candidates to replace him in Congress is starting to shake out.
His nomination must still clear the Senate Armed Services Committee, which has to review materials and schedule a confirmation hearing. It is expected a full confirmation won't take place until August or September. McHugh has not yet resigned from his Congressional seat–he's now catching some heat for being one of eight Republicans to vote for the cap-and-trade bill–and, as such, no special election has been called.
David Paterson has not talked about his plans (and in fairness, we've been a bit too distracted by other things to ask him much about it) to do so.
The Watertown Daily Times reported that Assemblyman Willis Barclay will not seek the Republican nomination to run for the McHugh seat, citing a desire to spend more time with his family. Republicans have set up a process to vet candidates from around the district.
Meanwhile, Democrats have issued a call to candidates which sounds like a college admissions process: they're asking for a cover letter or personal statement, resume, description of interest and "a description of the candidate's capacity and willingness to assist with fundraising for the campaign."
"We've probably, between all of the people have expressed some level of interest, some of whom have sent things in, others of whom are mulling, have about a dozen or so," Sue Montgomery-Corey, the Essex County Democratic chair, told me by phone just now. She declined to say who has submitted thus far, but said the firm deadlines are open-ended.
I asked if the Democrats planned to pick a candidate before a vacancy exists so they can hit the ground running; Montgomery-Corey said that would happen "in a perfect world."