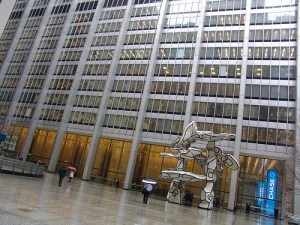 JPMorgan is planning to sell its soaring aluminum and glass skyscraper called One Chase Manhattan Plaza, according to a report in the July 13 issue of trade magazine Real Estate Finance & Investment.
JPMorgan Chase wouldn't comment on the report—which is interesting, because when The Observer first asked the bank about the rumor on March 26, a spokesperson flat-out denied it. Same story on a couple other occasions in May.
So what gives? Unclear. But here's what the trade mag is reporting:
JP Morgan is "preparing to sell" the 2.2 million–square–foot tower as part of a portfolio of properties that could include as many as 22 buildings. Houlihan Lokey, which recently hired four people from JPMorgan's real estate investment team, is marketing the portfolio on behalf of the bank.
drubinstein@observer.com