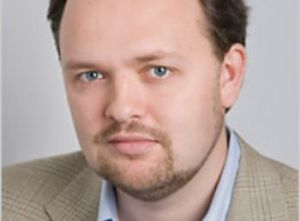 Ross Douthat, author of Privilege and newly minted New York Times columnist, has signed on with Simon & Schuster's Free Press imprint for his next book. According to Emily Loose, who will edit Mr. Douthat on this project, the book will be about American Christianity.
"I can tell you that we consider him a brilliant and exciting thinker, and he's writing a deeply probing and thought-provoking examination of how Christianity in America has gone astry," Ms. Loose said.
The 29-year-old Mr. Douthat, who rose to prominence as a blogger and columnist for The Atlantic Monthly, joined The Times in April, replacing William Kristol as the resident conservative on the paper's Op-Ed page. He published his first book—the 2005 polemical memoir about his time at Harvard—with Ben Loehnen at Hyperion, and his second—a prescriptive volume on the future of the Republican party Grand New Party co-written with Atlantic colleague Reihan Salam—with Adam Bellow at Doubleday.
For this deal, Mr. Douthat was represented by DC lit agent Rafe Sagalyn. Neither Mr. Douthat nor Mr. Sagalyn responded to requests for comment this afternoon.