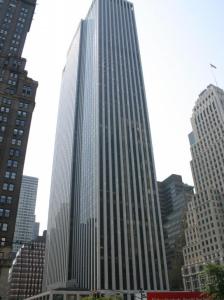 You know what they say about the best-laid schemes o' mice and men? It turns out the benighted General Motors Corporation may keep its New York headquarters at the eponymous GM Building after all.
GM is in negotiations with Mort Zuckerman and Ed Linde's Boston Properties to renew its lease at the GM Building at 767 Fifth Avenue, rather than follow through on its former plans to relocate its New York offices to more capacious digs at Boston Properties' other midtown gem, the Citicorp Center (recently renamed 601 Lexington Avenue), according to two sources familiar with the talks.
GM's current lease for 101,000 square feet at the white-marble tower, which it built in 1968 as its headquarters, expires on March 31, 2010. Its new lease, for 120,000 square feet at 601 Lex, began on June 1 and expires on May 31, 2019.
To their credit, the perspicacious Boston boys saw this coming. In early June, the REIT filed a prospectus with the Securities and Exchange Commission in which it acknowledged that GM's bankruptcy could affect its New York portfolio.
Because GM is in bankruptcy, it can "reject these leases at any time, but it must continue to pay its rent until it does so," read the prospectus. "We cannot assure you whether and for how long General Motors Corporation will continue to occupy its space at the General Motors Building, or whether it will ever occupy the space at 601 Lexington Avenue."
Despite the GM Building's status as the trophy tower to crown all trophy towers, GM's staying there would actually be the more cost-conscious move, because the bankrupt automotive giant won't have to spend millions building out the 120,000 feet at Citicorp.
From a lease-negotiation standpoint, GM has at least one thing going for it—a lack of competition from other tenants. But Boston Properties has some leverage, too, as it pointed out in the aforementioned prospectus:
"If General Motors Corporation rejects a lease, then we may file a claim for damages, which would be subject to the limitations under the bankruptcy laws and the availability of funds to pay creditors."
drubinstein@observer.com