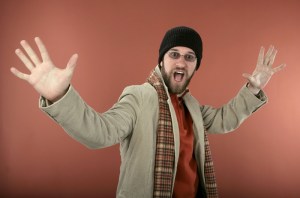 Dustin "Screech" Diamond has run into some difficulties with his tell-all memoir about his days on Saved by the Bell. It seems his publisher, Gotham Books, dropped the book three months ago upon receipt of the manuscript, and his literary agent, Jarred Weisfeld of Objective Entertainment—the same guy who sold Rod Blagojevich's book and accused Farrar, Straus & Giroux of anti-Semitism earlier this year—had to find it another home.
Gotham Books announced the acquisition of the book, titled Behind the Bell, last summer. It was going to be salacious! The deal memo promised "sexual escapades among cast members, drug use, and hardcore partying." Thanks to Mr. Weisfeld's handiwork, Mr. Diamond was paid a healthy advance in the low six figures.
The book first hit a snag when Mr. Diamond's ghostwriter, Alan Goldsher, was taken off the project for what Mr. Weisfeld described obliquely as "scheduling issues." But he was replaced, and eventually a manuscript of sorts was completed.
What happened next is a matter of some dispute. According to a well-placed source, the manuscrupt Mr. Diamond and his ghost handed in was deemed unpublishable by Gotham editor Patrick Mulligan, partly because it contained many assertions about cast members from Saved by the Bell that Gotham felt were unverifiable.
"That's 100 percent bogus," Mr. Weisfeld said today, stressing that the decision to drop the book from Gotham was a mutual one.
"It wasn't the right home for the book," Mr. Weisfeld said. "Sometimes people don't gel. There were no problems whatsoever—just, things didn't gel. If things don't gel, you stop and move on. I love Gotham Books and Penguin, and Patrick Mulligan is a great editor. I look forward to selling them books in the future. This one just wasn't meant to be."
O.K.!
Bill Shinker, the publisher of Gotham, would not go into any detail on his Screech experience. "It just didn't fit our publishing program," he said.
Fans of Mr. Diamond need not fret, however, as his book will see the light of day despite Gotham's reluctance to play a role in its publication. Mr. Weisfeld announced today that the book has found a home with a small Montreal-based operation called Transit Publishing, which publishes another one of Mr. Weisfeld's clients, the celebrity scribe Ian Halperin.
Transit hit it big recently with Mr. Halperin's fortuitously timed Michael Jackson book, which was in the process of being printed when Jackson died last month. Mr. Weisfeld and Transit chief Pierre Targin—whose previous publishing venture reportedly ended in bankruptcy in 2005—arranged to stop the presses and instead sell the rights to Mr. Halperin's book to Simon & Schuster. The book, renamed Unmasked: The Final Years of Michael Jackson, was rushed into stores earlier this month through the S&S's pop culture imprint Simon Spotlight, and landed at number one on this week's New York Times best-seller list.
Transit will publish Dustin Diamond's book on Sept. 29. "This book is freaking incredible!" Mr. Weisfeld said. "Everyone that reads it loves it, and [it] is truly one of my favorites of all time."