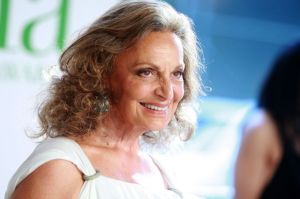 Want to see a map that tells you exactly where Diane von Furstenberg likes to shop (Moss, for home pieces) and pick up flowers (Miho Kosuda Ltd)? Or where Danny Meyer goes for some Japanese (Yakitori Torys)? Or where Moby goes antique shopping (Billy's Antiques) and claims to grab a beer (Mars Bar … really?)?
Today, Google has launched Favorite Places, a Google Maps feature that allows you to find celebrities' favorite spots, whether via the Web or your phone. Chefs like Danny Meyer and Masaharu Morimoto name their favorite spots to grab a bite; designers Cynthia Rowley and Isaac Mizrahi give up their most treasured boutiques. Little icons dot the maps and users can click on them for more information, while related photos of the locations line the bottom of the screen. Google users with a log-in can also make their own maps of their favorite spots with the My Maps feature to share with the rest of the Internet.
Google's new Favorite Places feature seems to be part of a recent trend in New York to blend technology, celebrities and sightseeing—like the Central Park Conservancy's celebrity-guided park tours by cell phone, or the various maps noting film locations. Google's Favorite Places was made in partnership with NYC & Company, the city's marketing and tourism organization, so some of the sites are "sponsored" by the group. It's kind of like an extension of their "Ask the Locals" section on NYCGo.com.
But the maps aren't just available in New York—there are Favorite Places features for cities from San Francisco to Boston and overseas in London, Tokyo, Madrid, Paris and beyond. Folks like cellist Yo-Yo Ma and Al Gore offer insights into their hometowns, too.
In the release, Google mentioned that local businesses can register more information, photos, and videos for free using the Google Maps Local Business Center, as part of their Local Business Center dashboard. Hmm, looks a bit like a CitySearch/Yelp mashup!
As far as Moby's love of Mars Bar, we think he's just trying to scare the tourists away by leading them to a less desirable location. But here's his excuse, according to a statement: "[T]he last remaining dive bar in the lower east side. [O]k, there are actually a bunch of dive bars in the lower east side, but mars bar has been around forever and it's eternally awful and fantastic." Fantastically awful, at least!