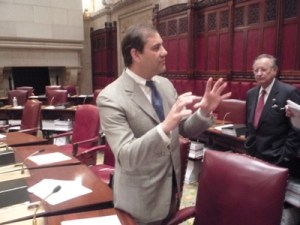 ALBANY—Just before 8 p.m. last night, the State Senate finally came into session to confirm several judges to their slots. Like most things the body does, it was not free of interparty rancor.
The first nominee was Richard Dollinger, a former Democratic senator and formerly failed judicial candidate from the Rochester area, who watched from a gallery with his wife as his former Democratic colleagues heaped praise upon his nomination to be a Court of Claims judge. ("This sounds like a lovefest, and it should be," Senator Suzi Oppenheimer, a Westchester Democrat, said.)
Republicans were not on the chamber floor until just after the vote; five of them, however, were counted present earlier in the day to establish a necessary 34-vote quorum, clerks said.
Most of the Republicans entered just after Dollinger's vote was taken, and some were visibly upset. They groused that bells to notify them of session did not ring, and that they were unaware floor action had taken place. (I found out about the session after a text message from a Democratic source.)
Senator Andrew Lanza, a Staten Island Republican, was most upset. As other nominees were being confirmed, he rose to register an objection for the record, as well as the fact that he would have voted against Dollinger. After the session, he spoke to reporters, talking about how judgeships must be meted out based on merit.
"Here's one that I really think stinks," he said. "Judgeships should not be doled out on the basis of political favors."
Lanza noted that Dollinger ran against colleague Joe Robach (who was not in the chamber) in the last election cycle, and said this nomination was his reward. The fact that Democrats acted without Republicans was a "fraud" and "out of order."
In response, Senator Neil Breslin, an Albany Democrat, told me that "Rick Dollinger is one of the most qualified lawyers I have ever met, and in my opinion Senator Lanza can't hold a candle to him."
The chamber stood at ease just under an hour later. Both sides then retreated into closed-door sessions to discuss a draft agreement on rules reforms for the chamber. Sources say it requires proportional committee representation, allows a petition of 60 percent of the number of senators to advance a bill to the floor calendar and imposes term limits on the majority leader and committee chairs. It has not yet been approved by the conferences.