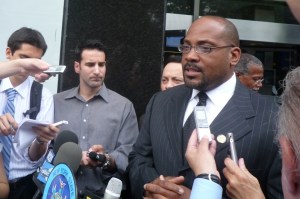 "We have reached an agreement," said Senate Majority President Pedro Espada outside 250 Broadway this afternoon, which he explained, will "fully, fully include the Senate's indelible imprint."
He was talking about the legislation to renew mayoral control of city schools, which senators and the mayor have been wrangling about for some time.
Standing next to Conference Leader John Sampson, and surrounded by reporters, Espada said the agreement will increase transparency at the Department of Education, increase parental involvement and provides "for the superintendents increased role over curricula" and "public safety issues."
Implementing the agreement doesn't seem imminent. Espada said his conference "can get up to Albany before the beginning of the September school semester and pass a school governance bill."
Sampson praised the breakthrough, and said some people thought this day would never come.
When asked for details about what exactly is in the agreement, Sampson demurred.
"At this point in time, there is still a finalization of the language," and "a final product will be voted on … before children start school in September," he said.
Espada said the role of superintendents was strengthened, and spoke in vague terms about having settled the "public safety" issue.
More than one reporter left the event wondering aloud what specifically the senators had agreed upon, and with whom. Senate staffers at the event did not elaborate on the senators' remarks.