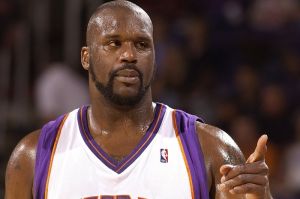 Shaquille O'Neal's mom is writing a book! Helping her will be Newsweek reporter Allison Samuels, who met Lucille O'Neal while covering the Lakers and has remained friendly with Shaq since. "We were talking one day and he was saying, 'My mom wants to write a book,' and he said he really wanted me to talk to her about it," Ms. Samuels said. "So I called her and we talked and it really clicked."
The book, which Ms. Samuels described as an inspirational story about Ms. O'Neal's life, will be published in time for Mother's Day next year by Thomas Nelson, the Christian house that put out a book by Britney Spears' mom last year.
"The most interesting part of the book for me," Ms. Samuels said, "is how she had this resentment towards Shaq's success, because everything changed so much when he became part of the NBA. She became just 'Shaq's mom'—her identity was pretty much lost." Ms. Samuels said that the arc of the book will be built around the changes that Ms. O'Neal, who is in her mid-50s, made in her life in the years since.
Ms. Samuels said the toughest part about convincing publishers Ms. O'Neal's book was a good idea was that books by other celebrity moms—Raising Kanye by the late Donda West, Mama Rock's Rules by Chris Rock's mom Rose, and A Mother For All Seasons by Debbie Phelps—have not sold very well. "That was an uphill battle," Ms. Samuels said. "We really had to show how Ms. O'Neil's book would be different. It's more of a personal story."
One thing that helped their cause when Ms. Samuels, Ms. O'Neal, and their agent Steve Troha of Folio Literary Management met with publishers back in May was that the author's famous son came along, and promised editors that he'd take an active role in promoting the book.
"It was great—you really got to see the chemistry between the two of them," said Mr. Troha. "It realy showed how involved he's going to be in this book's publication."
Ms. Troha said Shaq will be doing media and book signings. Ms. Samuels added that he will write an introduction for the book, and has promised to promote the book on his popular Twitter feed as well as during post-game interviews. One complication that may arise with Shaq's move to the Cleveland Cavaliers, who presumably will be busy with the NBA playoffs if Ms. O'Neal's book comes out around Mother's Day as planned.
What about a book from Shaq himself, though? Both Ms. Troha and Ms. Samuels agreed that it was probably just a matter of time.
We suggested to Mr. Troha that, since he's dealing with his mom anyway, he should turn Shaq into a client. Mr. Troha said he had no comment.