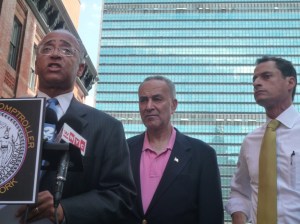 Bill Thompson had a good weekend, picking up the support of two major figures in Democratic politics, Al Sharpton on Saturday and Chuck Schumer on Sunday.
Sharpton announced his support in Brooklyn before he joined Thompson for a day of campaigning in predominately black neighborhoods there and in Queens.
At the event, I asked Sharpton about the endorsements Michael Bloomberg received from prominent African-Americans like Newark Mayor Cory Booker and Washington, D.C., Mayor Adrian Fenty.
"Well, I'll tell you what. Since we're all friends, and all cordial, why don't we have Billy Thompson and I and the mayor and those two gentlemen campaign together, in the middle of any African-American community, and let's see what the reaction is."
Sharpton added, "Any city, anywhere the mayor wants to go, we'll go. I have no problem with that."
The next day in midtown, Schumer promised, somewhat formalistically, to produce an endorsement for Thompson.
Schumer said, "Well, first, I always endorse the Democrats. Second, it'll be up to the comptroller's office and my office as to the timing of the endorsement."
I asked Schumer whether calling Bloomberg one of "New York's greatest public servants" last week would complicate his endorsement of the Democratic mayoral candidate.
"I think the mayor has done a very good job, no question about it. But there may be some others who do an even better job," he said.
Schumer and Thompson were in midtown, along with onetime mayoral candidate Anthony Weiner and Michael Miller of the Jewish Community Relations Council of New York, to announce plans to divest city pension funds from energy companies doing business with Iran.
UPDATE: Bloomberg campaign spokesman Howard Wolfson declined to comment on the remarks. Another campaign spokesperson, Jill Hazelbaker, forwarded press releases about endorsements Blooomberg received from "Brooklyn Ministers," "African Leaders," "Council of African Imams," "SE Queens Ministers" and Bishop Cecil G. Riley.