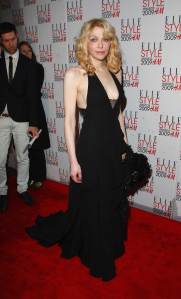 Is Courtney Love changing representation? The Transom has learned that the Hole lead singer and widow of Kurt Cobain has paid a few visits recently to the East Village offices of Crush Management, the young, downtown music agency that's made stars out of teen-approved pop-punk bands like Fall Out Boy and Panic! at the Disco.
Crush Management declined to comment, but sources close to the company, which oversees the careers of about 20 rock artists, said that Ms. Love—whose next record, Nobody's Daughter, is due out early next year—has indeed been working with them.
Signing with Crush could be not only a wise strategic move for the artist, now 45, but a convenient arrangement given recent gossip that Ms. Love is moving back to the city. She was photographed late last month shopping for an apartment in the West Village, which, back in January, is where she told Heeb magazine she was planning on relocating with her daughter, Frances Bean Cobain, although she also said: "I'm dreading moving to New York, really to be honest, it's like I fucking hate L.A., but I'm just dreading it."
Ms. Love's MySpace page lists her location as "London & Los Angeles." But judging by her Twitter updates as of press time, she's still in town. She posted a series of tweets following Green Day's concert Monday night at Madison Square Garden, concluding that "EVERYTHING was perfection" even though "ididnt see any other Homos or freaks like me at MSG tonite it was depressing i saw chix tho LOADS of chicks."
Then on Tuesday morning: "w village here we come."
So might Ms. Love be in New York for the long haul?
"No comment," said her publicist, Alan Nierob.
Back in July 2004, Ms. Love was hauled out of her 30 Crosby Street apartment by EMTs, screaming and handcuffed to a gurney in an apparent medical emergency. She maintains that she has been drug-free ever since.