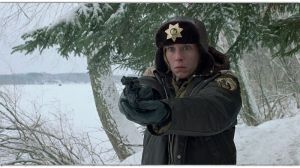 It's 2 a.m. and you awake with a jerk, alone in your fully lit apartment and still on the couch. On TV, the credits of some movie you've already seen a billion times are scrolling by. It feels like rock bottom. And we know, because we're just like you: single.
Need a movie to keep you company until you literally can't keep your eyes open? Join us tonight when we pass out to Fargo [starting @ 1:35 a.m. on IFC]
Why we'll try to stay up and watch it: Is it possible that a musical score can make a movie? In the case of Fargo, the answer is perhaps. The Coen brothers 1996 classic is easily their most assured and taut work—clocking in at a bare-boned 90 minutes, the film doesn't waste an iota of extra energy—but, for us, what makes it so memorable is Carter Burwell's haunting and bombastic score. The dissonant strings, regal horns and even the lilting glockenspiel perfectly complement the Coen Brothers' stark and wintry imagery and make even the most mundane snowflake feel heightened and alive.
Of course, the movie it gets showcased in isn't half-bad either. As filmmakers, too often the Coen brothers are fond of staying above the fray. They create a bunch of flawed and unbecoming characters—cowards, killers, weaklings and liars—and then take them to task for being flawed and unbecoming. To reference their Oscar winner, No Country for Old Men: The Coen's are like Anton Chigurh, when we'd rather see them try to be a little more like Llewellyn Moss. Thanks to Frances McDormand's Marge Gunderson, though, Fargo is loaded with real-life human emotions. Despite featuring a rouges gallery of contemptible characters, Marge stands like a beacon of hope—we want her to succeed and feel good when she does—and, as a result, Fargo might be the Coen's most humane work. And, yes, we are talking about the movie wherein Steve Buscemi gets chopped up in a wood chipper.
When we'll probably fall asleep: A great thing about Fargo is how it tweaks normal genre conventions. Take the two kidnappers played by Steve Buscemi and Peter Stormare. At first, they come off like any other post–Pulp Fiction Tarantino-tinged set of mismatched criminal partners: They're funny and goofy, like Laurel and Hardy with guns and greasy hair. But that feeling of glee disappears once they get pulled over by a highway patrolman. So we'll make it until 2:07 a.m., 32 minutes into the film, when the Coen brothers flash their trademark violence and all the joking turns brutally real. We'll say it: This is the best scene they've ever done.