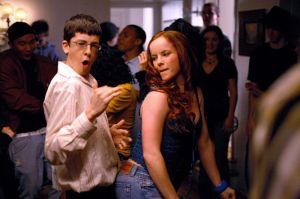 It's 2 a.m. and you awake with a jerk, alone in your fully lit apartment and still on the couch. On TV, the credits of some movie you've already seen a billion times are scrolling by. It feels like rock bottom. And we know, because we're just like you: single.
Need a movie to keep you company until you literally can't keep your eyes open? Join us tonight when we pass out to Superbad [starting @ 11 p.m. on Starz Edge]
Why we'll try to stay up and watch it: As bad as Year One truly was—make no mistake, the Harold Ramis–directed bomb is one of the worst movies of the decade—the only person who managed to illicit a smile from our hardened faces was Michael Cera; it appears that even amid pure, unadulterated crap, his charm knows no bounds. So why then do we find ourselves concerned about the longevity of his career? With seemingly nothing in his quiver other than the "Michael Cera performance," we're not entirely sure he's got viable staying power. Box office receipts aren't everything, but, since 2007, Mr. Cera's grosses have been trending downward. And his next two films—the indie's Paper Heart and Youth in Revolt—don't appear equipped to stop the fall.
At least, then, he'll always have Superbad to show the grandkids. A smash upon release, Superbad is, pound for pound, the funniest comedy yet to come out of the Judd Apatow Factory. Like the best coming-of-age stories, it manages to be both timely and timeless—whether you're 17 or 50, you can probably relate to what happens throughout the last night of high school.
Despite Mr. Apatow's prominently featured name, we feel that most of the credit for Superbad's success has to go to director Greg Mottola. He's directed three movies—The Daytrippers and Adventureland being the other two—and in each he brings something to the genre of comedy that is more rare than you might think: Humanity. Superbad, beneath all its dick jokes—of which there are many—is a touching story about allowing friendships to mature. And no matter what crazy shenanigans happen around BFF's Evan (Mr. Cera) and Seth (Jonah Hill, seething and unleashed), that through-line is always present. The laughs resonate because they mean something.
When we'll probably fall asleep: If Superbad winds up being the height of Mr. Cera's run, then the scene when Evan is forced to sing the Guess Who's "These Eyes" by a group of coked-out older guys (Martin Starr and David Krumholtz among them) is his zenith. It's a moment of comedic genius that hasn't found an equal in recent years; not even Zack Galifianakis's machinations in The Hangover can rival Mr. Cera's brilliance. Needless to say, then, we'll make it until 12:09 a.m., 69 minutes into the film, when Evan hits the high notes and Superbad hits its stride. We defy you to not have this song in your head for the rest of the day.