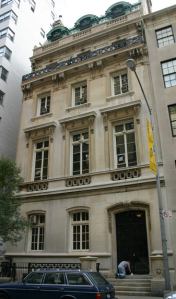 This is a hard, lonely time to be a ludicrously expensive, exceptionally massive piece of luxury Manhattan real estate. Just last month, a Time Warner Center penthouse that was put on the market last year for $65 million sold for just $37.5 million, and Madonna paid $32.5 million for a townhouse that was once asking $45 million.
But an even bigger, more sumptuous piece of New York luxury realty won't be selling anytime soon at all.
The 18,500-square-foot, 104-year-old Sloane Mansion at 18 East 68th Street was put on the market last year for $64 million, then the most expensive townhouse ever officially listed in New York City. Eventually, Aby Rosen's $75 million mansion came along, and a few months later Sloane's price was cut to $54 million, though as of Thursday the East 68th townhouse was still the city's second priciest.
But Friday it was taken off the market, and its online listing with Brown Harris Stevens' Paula Del Nunzio was pulled down. The townhouse was sold in 2003 for only $7.6 million to developers, who then sold it to a group of investors for $20 million in May 2007. "They want to consider their various options," Ms. Del Nunzio said Friday.
The timing of the mega-listing's removal makes sense. The kind of people interested in 18,500-square-foot pieces of real estate do not tend to summer in New York, so it's unlikely the place would have gotten many visits between now and Labor Day. The annual summer real estate lull is a particular pity this year: Brokers had been saying things were just starting to pick up again.
It's not clear if the Sloane Mansion will come back on in the autumn, if it will have a drastically lower price, if it might be rented out, or even marketed as a multi-unit building. "I can't answer that because it's all being evaluated," the broker said.