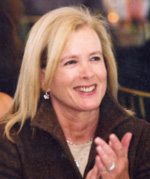 Recently, Manhattan district attorney candidate Leslie Crocker Snyder called for Congress to ensure that DNA testing is available for inmates, to help ensure that innocent people can be cleared of charges and that wrongdoers can be more effectively prosecuted.
In a public statement on June 19, Snyder said, "As a prosecutor and a Judge with 35 years of experience in every aspect of New York's criminal justice system, I have seen firsthand the value of DNA testing and been witness to the fact that innocent men and women are wrongly convicted."
An interested reader pointed out that in 1997, Snyder, as a judge, resisted the introduction of a piece of after-the-fact evidence that eventually helped clear a defendant. In that case, fingerprints had showed a defendant in her court was a victim of mistaken identity.
Tom Robbins reported on the issue back in 2005, and wrote:
The case involved a man who was picked up by police, accused of being a fugitive drug dealer named Ramon Perez. The defendant's lawyer, Kenneth Wasserman, told Snyder it was mistaken identity, and that a state fingerprint check had confirmed that his client was in fact Saul Gonzalez.

According to the transcript, the assistant D.A. offered no opinion, but Snyder, pointing to a 10-year-old snapshot of the fugitive, mockingly dismissed the claim. "That is truly absurd," she said. "The photographs look exactly like your client." The fingerprints had simply gotten mixed up, she insisted.

"There is not a scintilla of doubt in my mind," Snyder said twice at the hearing before she remanded the defendant back to jail.

Two weeks later, the D.A. told Snyder they did indeed have the wrong man. At that point Gonzalez had been in jail for 24 days, but Snyder was still suspicious. "Unless he's been cloned, he is clearly the same person," said the judge as she released him.

Last week, Snyder admitted her mistake, but offered no apology. "You would have to look at the record," she said. "I don't remember each time what I said." If anyone was at fault, she said, "it was the D.A.'s office, which kept insisting it had the right person."
When asked for comment, a spokesman for Snyder referred to her public statements on June 19 of this year.
"As Manhattan District Attorney I will work tirelessly for the pursuit of justice and to protect the innocent. I have previously pledged to open a Second Look Bureau that deals specifically with post conviction motions to set aside a verdict or sentence and utilizes technology including DNA testing to ensure that prosecutions are valid, long after a case is closed. While it is the job of every prosecutor to get it right the first time, it is equally important for every prosecutor to acknowledge and understand that mistakes can be made," Snyder said.