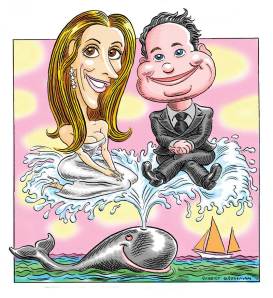 Late last year, a man named Aidan Vola, a plumber by trade, decided to launch a society magazine called New York Hamptonite. Using $118,000 of his own savings, he assembled a sales team and rented a small office in Bridgehampton. At 3 a.m. on May 22, 2009, the Friday before Memorial Day weekend, his distributor delivered 15,000 copies of the inaugural issue, which had Real Housewives of New York cast member Luann de Lesseps on the cover, to storefronts across the Hamptons.
Mr. Vola and his fiancé, Jennifer Lee, a real estate broker in Manhattan, didn't sleep that night. At 7:15 that morning, they drank Red Bulls and excitedly drove the hour and a half from Sayville to the Hamptons to look at how their little magazine was doing. They hoped to see someone picking it up. Maybe even reading it.
When Mr. Vola and Ms. Lee arrived in East Hampton, all the magazines were gone. It was the same situation in Bridgehampton and Southampton. Mr. Vola, a large, bald, friendly-faced man who grew up in East New York, reading about high society in the pages of Vogue and Harper's Bazaar, was thrilled.
"I was like, 'Holy cow, we got really well received!'" he said. "Everyone must really like it!"
Then one of his writers, Tony Vargas, stopped by the Southampton Inn—the hotel's new restaurant, OSO, was reviewed in the issue—and was told that someone had come in and picked up the stacks of Hamptonite. Mr. Vola started hearing the same thing from store clerks in East Hampton.
"You see where you dropped your magazine there?" one told him. "Well, who's there now?" The stack of magazines contained the June issue of Social Life, with Rolling Stone scion Alexandra Richards on the cover. Mr. Vola's distributor, Keith Husain, who works for Green Heart Trucking, told The Observer that he had noticed a "dark blue or black van" with an older gentleman at the wheel following him around while he was dropping off the magazines, but hadn't thought anything of it.
Clearly, Mr. Vola had no idea what he was getting into.
THE FREE SOCIETY MAGAZINES THAT YOU'LL find in wire baskets outside Book Hampton in Southampton or Tiffany and Co. on Main Street in East Hampton—Social Life, Hamptons, Hampton Sheet, the recently defunct Hamptons Style (published by Dan's Papers) and even Mr. Vola's Hamptonite—are like the jostling little cousins of Town and Country and W. They all look pretty identical, with gushy profiles and page after page of flattering party photos. They also reflect the very thing that society likes to impose on itself: a certain caste system. Which is perhaps why so many of these magazines have managed to co-exist: If you increase the number of party pictures, more people can get into them. And the only people who find that objectionable are the ones who remember when getting attention was a more elusive thing.
'They were trying to Olivia Palermo us!'—Devorah Rose, Social Life editor, on Hamptonite's allegations
"They're kind of like yearbooks for the summer," said socialite Minnie Mortimer (sister of Topper; sister-in-law of Tinsley). "You flip through and you're like, 'Remember that?' And then you see everybody who was there."
"It's the first thing people look for when they come to town," said Cristina Greeven Cuomo, the editor of Niche Media's Hamptons and its city counterpart, Gotham. "They're looking for their friends, they're looking for themselves."
"Every Hamptons publication during the summer is very important because that's what everyone is reading," said Lizzie Grubman, the publicist (whose SUV-powered brush with infamy eight years ago isn't likely something you'd read about in any of these publications).
But what, exactly, is everyone reading?
On a recent Thursday, the society chronicler David Patrick Columbia sat down at his corner table and ordered a beet soup and two cobs of buttered corn at Swifty's on the Upper East Side. The waitress brought over his usual iced tea without asking. "I got my eyes done," an elderly lady in a pastel green suit and straw hat was telling her lunch companion at the table nearby. "Twice!" Mr. Columbia nodded hello to her.
Mr. Columbia moved to New York in the early '90s. He took a job writing a column called New York Social Diary (now his Web site) for Quest magazine; then edited Avenue, its competitor; and in 2001 returned to Quest and Q, Quest's quarterly fashion offshoot, with the honorary title of editor in chief. (Elizabeth Meigher, the daughter of publisher Chris Meigher, technically runs the daily operations at Q, and Georgina Schaeffer is executive editor at Quest.)
The formula for a society magazine, according to Mr. Columbia, has always been rather simple: a social column and a generous dose of party pictures at the front and a couple of profiles in the back. Quest and Avenue, Mr. Columbia asserts, are the authentic society magazines because they are put together by members of the world they cover.
"The Meighers, for example, are part of the New York and Palm Beach society," said Mr. Columbia, who himself grew up middle-class in Massachusetts. "Elizabeth and Georgina grew up in New York and went to private schools here. All their friends belong to this world.