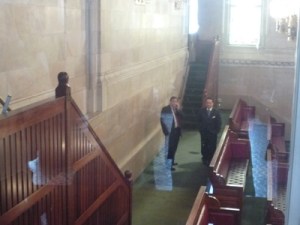 ALBANY—A Democratic state senator involved in negotiations just confirmed that State Senator Pedro Espada Jr. will be returning to that conference as co-majority leader.
"I think the conference will go for it," the source said.
Espada is right now standing on the balcony over the Senate chamber talking to Steve Pigeon. Espada told Fred Dicker that "Dean [Skelos] rejected an opportunity" and now he's returning to the Democrats.
This would end the stalemate that has hobbled Albany for over a month. It's not clear how this will affect the politics around David Paterson's constitutionally questionable appoint of Richard Ravitch as Lieutenant Governor, since the rationale for the appointment was that Ravitch would be able to break the 31-31 deadlock in the Senate.
UPDATE: Mike Nievas, an adviser to Senator Hiram Monserrate–one of the Democratic "amigos" who has been seeking to lure Espada back to the Democratic side–just left Espada's office. The amigos are all in there.
UPDATE: Media advisory from Senate Republicans:
The Senate news conference scheduled for 2:30 p.m. today has been
cancelled.